Telephone companies could supplant television companies as the source of goggle-box fodder, says mobile gear-maker Ericsson as it promotes the new mobile LTE Broadcast specification.
Unlike traditional mobile phone communication, which is one-to-one, LTE Broadcast sends the same data to many people. It's a little like the SMS-type technology in GSM called Cell Broadcast which can send the same information to all the handsets in a cell at the same time.
While Cell Broadcast can only send short text messages, LTE Broadcast has the full bandwidth of a 4G connection – which is easily good enough for HD video streams.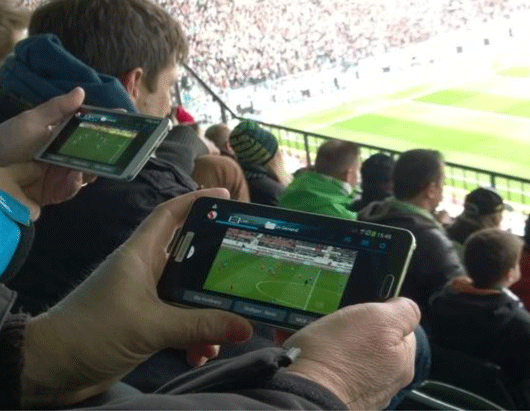 All people in a cell can watch the same video at the same time. We've looked at how the standards for this are evolving before.
There is certainly a need for it when massive traffic volumes are generated by large sporting events such as the World Cup. EE has reported that the goal scored by ex-Everton player Tim Cahill for Australia at 5.21pm on Wednesday 18th June resulted in the biggest ever single data spike across the EE network as people took to social media and streaming services to watch replays of the goal. EE attributes the high data usage to the number of people watching on their phones while at work.
With LTE Broadcast, viewers can be flipped between broadcast and unicast so advertisements can be targeted to individual viewers, and while it's essentially live TV there is a caching mechanism which allows an element of catch up if a phone drops out of coverage.
The technology has three components: eMBMS, HEVC and Mpeg-DASH. The first of these, eMBMS, stands for Evolved Multimedia Broadcast Multicast Service and is the over-the-air bit which sends the signal to lots of users at once. HEVC stands for High Efficiency Video Coding, which is a new video compression standard that promises to halve the bandwidth required to transport video when compared to today's MPEG-4 AVC and MPEG-DASH, or Dynamic Adaptive Streaming over HTTP. HEVC supports the use of a common player on a device and a live head-end encoder system for both unicast and broadcast.
The support for LTE Broadcast means consumers can be targeted based on location, time, bitrate and how they are billed.
New tech – new revenue opportunity for mobile operators
In addition to TV, Ericsson is keen to promote other uses for LTE Broadcast such as pushing out firmware updates for handsets, sending newspapers podcast-style to tablets that will be read on a morning commute, broadcast audio to emergency services, traffic information – in particular sending broadcast traffic information to an area and specific information to individual drivers – and, most of all, digital signage.
The idea behind the last use case is that mobile phone companies could buy vast numbers of large scale video screens and then sell advertising space on them. The screens could show live or recoded video sent over LTE broadcast, with the advantage of downloading video files to the screens being that data could be sent when the mobile network was otherwise quiet.
The technology is imminent. Some handsets already support LTE Broadcast. Ericsson recently ran a technology demo with Vodafone Germany and KPN Netherlands at the Borussia Mönchengladbach Football Stadium with three channels showing the actual game (with replays), a parallel game and a conference channel. Fans watched the games used standard Samsung Galaxy Note 3 devices.
EE is working with Huawei on some LTE Broadcast services which they expect to announce shortly.
Mobile operators who feel that they have lost what they regard as core revenue, from apps to new entrants, may well feel motivated to try the field of media sales but will find winning the hearts and minds of advertisers very much harder than they expect. As with many things mobile, the substantial technical challenges may be more straightforward than the political and commercial ones.
Similar topics