This article is more than 1 year old
Apple wins patent to pump ads to your iDevice while you're watching TV
Product placement isn't intrusive enough, it seems
Apple has been granted a patent for a "second screen" scheme for providing associated content – ads, info, and the like – to a secondary device such as a smartphone or tablet when you're viewing content on your primary display, e.g. your big-screen TV.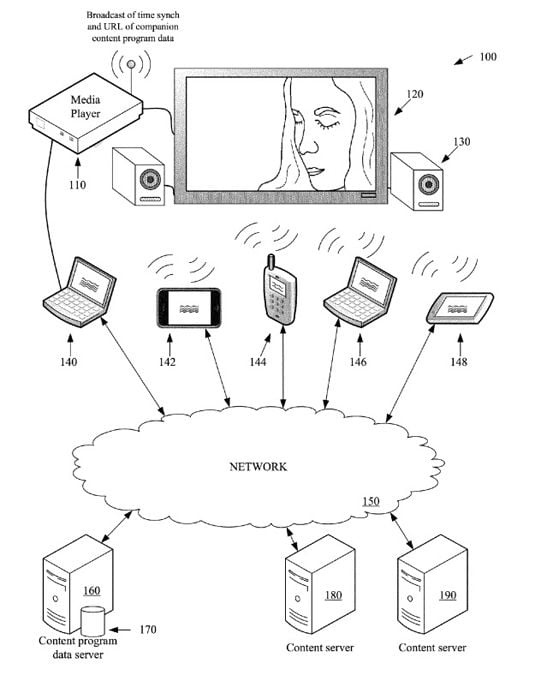 When merely watching television isn't enough
US patent number 8,763,060, filed in May 2011 and granted Tuesday along with 51 other Apple patents, describes a method of synchronizing second-screen content by means of a time-offset method, and not by means of content sent by the media player that's feeding the primary screen.
That media player, the filing states, can deliver "movies, television shows, webisodes, straight to digital storage medium productions, online videos, etc," while the secondary screen provides the user with info about "actors, audio sound tracks, images of clothing and other goods."
The crying need that this patent aims to fill is that "Information about the things seen and heard in a media presentation is not always discernable from the media presentation itself as it is playing." Examples listed include the name of an actor in the primary presentation, or – most importantly, one assumes – one-click access to buying a song being played or something being shown in the primary content.
The patent discusses product placement – the growing tendency of companies to pay content providers to include their products in their shows – and how it circumvents the also-growing tendency of users to fast-forward through standard advertisements in recorded content.
"When product placement is done well, such placements can enhance the viewer's experience," the patent argues. "For example, when the script calls for a character to drink a canned beverage, the character may drink a beverage from a can with a distinct, recognizable color scheme or logo."
Unfortunately for the company paying for the product placement, the mere appearance of the item being placed doesn't provide a viewer with enough information for the viewer to make an informed buying decision. "For example," the patent notes, "a viewer might admire the curtains in a scene, but assume that they would cost too much to be worth buying. Such a viewer would not bother to track them down and would never realize that the same curtains could be purchased for a price that he could afford."
To the rescue of that poor, ignorant curtain-deprived user comes the 47-page patent 8,763,060, "System and method for delivering companion content". When a product placement occurs during a show – or when a song is being played – you'd be provided with an ad on your smartphone, tablet, laptop, or whatever your second screen might be, including an informational prompt that you could use to purchase that item.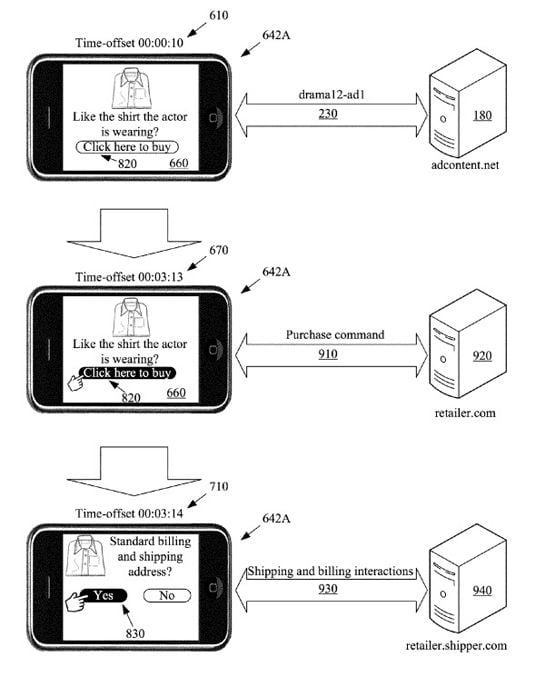 Must ... consume ... products ... every ... waking ... moment
Content presented on your secondary device would be provided from a secondary source – wired or wireless internet access – and would be synchronized to the content beng presented by the media player through a player-provided "time-offset synchronization signal."
In addition, such info as preferred shipping address and credit-card number could be provided either by the secondary device or the website of the company providing the product, should you already have an account with them.
And no, this isn't an Amazon patent...
The filing does note that content other than ads could also be provided – links to a fan page for an actor in the show, for example, plus fun stuff such as surveys or quizzes, or the ability to vote for a contestant on "Britain's Got Talent" or "American Idol". The patent also helpfully suggests that a pause for voting could be enabled on the second screen.
Other less mercenary suggestions include "a link to read a script of the movie, a link to view storyboards, and a link to closed captions." Its clear from the patent, however, that the main purpose of the second screen is to either sell products directly or provide simple banner ads.
Thankfully, although the patent does describe an embodiment in which the secondary screen could display playback controls that "include, but are not limited to 'play', 'stop', 'pause', skip to next/previous chapter, 'fast forward' and 'rewind'," it does not include a scenario in which users are required to view and respond to ads in order to continue watching something on their primary display.
That requirement, we can only assume, is something that'll be included in a future patent. ®