One amazing reason why NASA boffins are celebrating Curiosity's 687th day on Mars
Nuke-powered space tank promises to keep on truckin'
As Curiosity trundles across the plains of Mars, its controllers at NASA are preparing to hold a bit of a party – as on June 24 the rover celebrates its first full Martian year (687 Earth days) on the Red Planet.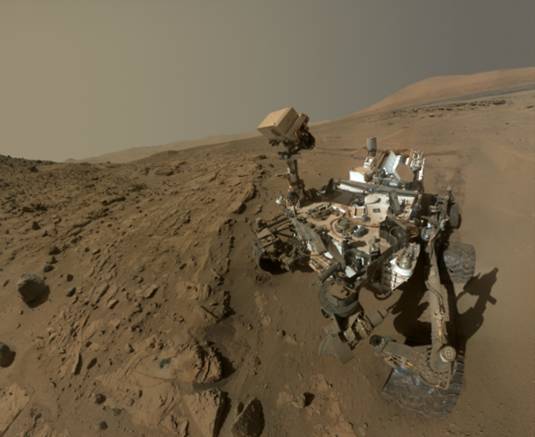 Curiosity is looking good on its first Martian birthday
The rover landed on August 6, 2012 in Earth reckoning, and in the last Martian year has succeeded in its primary mission of finding out if Mars could have supported basic life as we know it. In March of last year, NASA reported that it had achieved just that, after drilling samples at a rock formation named Yellowknife Bay showed Mars had warm, flowing water and all the ingredients needed to sustain life.
Since then the rover has taken rock samples from two other sites that have backed up the original conclusion, and it's now trundling its way across the surface seeking more evidence. Its goal is to reach the side of Mount Sharp, which should allow NASA scientists to see how the Martian environment evolved by examining rock strata that's similar to the last drilling site of Windjana.
"It's too early for conclusions, but we expect the results to help us connect what we learned at Yellowknife Bay to what we'll learn at Mount Sharp," said John Grotzinger, Curiosity project scientist at the California Institute of Technology. "Windjana is still within an area where a river flowed. We see signs of a complex history of interaction between water and rock."
The one-Martian-year anniversary also marks the expected lifespan of the Curiosity mission. The rover was designed to last at least this long to be regarded as a successful mission, but NASA engineers typically design parts to last for two to three times their expected lifespan.
So far the rover is in excellent health. Its nuclear core is functioning well, its software has been upgraded multiple times, and its instruments show little sign of providing problems. When Curiosity landed, NASA officials said it was conceivable that the rover could last up to an Earth decade before conking out – and it looks good so far.
It hasn't all been fun and games, however – Curiosity's wheels are having a tough time of it with the rocky terrain. NASA is currently running the six-wheeled rover much more carefully after a number of tears and rips appeared in the metal wheel plates.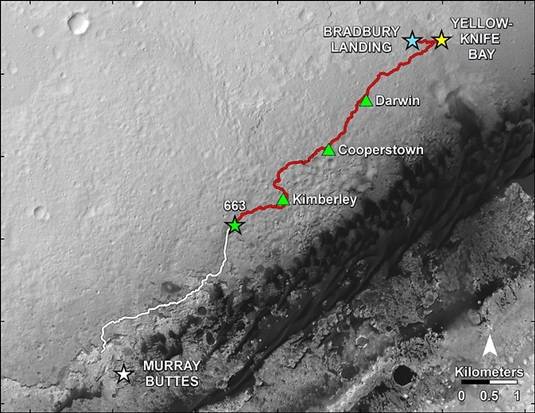 Curiosity's long and winding road
The NASA team controlling the rover is now picking their way carefully towards a gap in the sand dunes surrounding Mount Sharp. The entry point is 2.4 miles (3.9 kilometers) away from the rover's current location, and the agency is using the Mars Reconnaissance Orbiter to scout out the safest route.
"We are getting in some long drives using what we have learned," said Jim Erickson, Curiosity project manager at NASA's Jet Propulsion Laboratory in Pasadena, California. "When you're exploring another planet, you expect surprises. The sharp, embedded rocks were a bad surprise. Yellowknife Bay was a good surprise." ®