This article is more than 1 year old
Microsoft is still touting Android smartphones – meet the new Nokia X2
Low-spec dual-SIM Android mobe for developing world
Microsoft has revealed the Nokia X2: a dual-SIM version of the Android-powered Nokia X.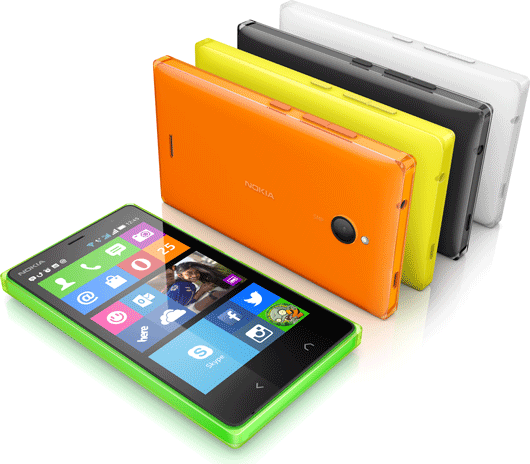 Not a Windows Phone ... the new Nokia X2
It runs Jellybean – Android version 4.3 – behind a Windows Phone 8-ish façade. It's aimed at emerging markets, which prize dual-SIM handsets as price-conscious folks juggle tariffs.
Microsoft suggests as much by describing the Nokia X family as "affordable smartphones designed to introduce the 'next billion' people to the mobile internet and cloud services".
The X2 has a dual-core Qualcomm Snapdragon 200 processor – the cheap one – running at 1.2GHz CPU, and with 1GB of RAM. The phone comes with various Microsoft services – Bing, Maps and the like – plus a 4.3-inch 800-by-480-pixel ClearBlack touchscreen, and a 5Mp rear camera with autofocus and flash.
There is a miserly 4GB of internal storage, but there is a microSD slot, which can take cards up to 32GB in capacity.
The X2 has is a new version of the Fastlane user interface that blends Android with Windows Phone: the home screen has resizable tiles, for instance, and a pull-down list that features message notifications, connectivity controls, and buttons to trigger actions (such as software updates to download).
The phone has a home button, which was so obviously missing from earlier Xs.
If Microsoft can't get the developing world using Windows Phone 8, it will certainly try to hook them on Microsoft applications and services. The X2 comes with Skype, OneDrive, and Outlook.com webmail, and offers free downloads of the Bing Search app, OneNote and private-network-for-biz platform Yammer.
The default web browser is Opera as Microsoft snubs Google Chrome on Android.
Microsoft is pushing OneNote very hard to enterprises for collaborative working, with documents stored in the OneDrive cloud. Pictures and videos taken with the X2's camera can be backed up to OneDrive, which offers 15GB of free storage space.
The mono-body phone looks very Nokia with exchangeable back covers that fuse a brightly colored core with a translucent outer layer. Nokia reckons the overall result is a durable device that appears lit from within.
At launch it will come in glossy orange, black and green colors, with glossy yellow, white and matte dark grey coming later. It's a decent size and weight at 121.7 x 68.3 x 11.1mm (4.79 x 2.69 x 0.44in) and 150g (5.3oz) Its 1,800mAh battery can apparently manage a 3G talk-time of 13 hours – there is no 4G support. Standby is said to be 23 hours.
There is a delightful irony in watching the videos of Microsoft executives who've been promoting the Windows Phone ecosystem suddenly talking up the X2.
But ultimately it makes sense. The Series 40 had run out of steam, Nokia needed an entry-level device – and this is €99 (about $134 or £79) – and it all seems like rather a nice budget phone. It's not planned for a UK launch but then neither was the X. ®