Who needs a ride-on mower when a ROBOT will cut your grass
Bosch's Indego works in neat stripes; pity you can't see them
---
Review In December last year the UK's biggest DIY chain started stocking its first robot lawnmower. That's an insane time to try out grass-cutting technology, so we waited for June to get a proper look at the latest in automated high street grass maintenance.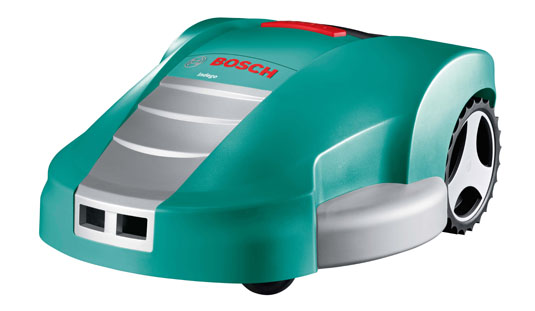 Tennis court need a trim? Bring on the Bosch Indego
The Indego Robotic Lawnmower comes in at £1,300, inclusive. That's undoubtedly expensive for a lawnmower - the same money would get you a basic ride-along mower - but it compares well with the other robots.
Flymo has a cheaper model, at £1,000, but that can only cover 400sq metres compared to the thousand square metres of lawn the Indego will cut. The rest of the pack are considerably more expensive, and few of them are as clever an Indego – but how intelligent does a lawnmower really need to be?
The first robot lawnmowers were quite stupid, just bouncing off the sides of a garden and circling with a rotating metal blade. Even modern models expect a pegged-down (or buried) wire to mark the boundaries, and Indego has floating blades in the style of an electric strimmer, so won't cut through the pegged wire (or paddling pools) which makes laying out the boundary much easier.
The mower does need a home plate, with mains power and two metres clear in front and behind, but once set up it sets out to walk the perimeter and map the garden. Less intelligent lawnmowers don't bother with this, and where the perimeter wire runs alongside a wall one can just stuff it down against the stonework and let the lawnmower bounce off the walls, but the Indego won't do that – it needs to be able to patrol fully astride the wire.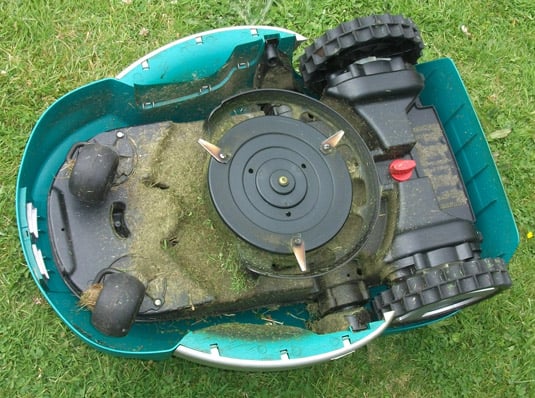 Blades of glory
Fortunately the pegged wire can easily be moved, and with a single core it's easily extended too, so a quickly-laid perimeter can be shuffled into the corners as necessary, and all that intelligence does have some advantages.
The Bosch Indego battery will run for three or four hours, but that's surprisingly unimportant thanks to that intelligence. When mowing the lawn it'll make a start, running back and forth in neat rows - though not stripes, as it has no roller. Once the battery runs down it'll head home for to recharge for a couple of hours and then return to the point where it left off, repeating the process until the lawn is finished.
It's clever but not that clever. When it gets stuck under the children's slide it'll shut down as the wheels spin. Drag it out and it'll start up again, but, after orientating itself, it carefully returns to the point where it got stuck and (if the obstruction is poorly shaped) confidently gets itself stuck again. Few obstacles will catch the Indego that way – as it'll bounce off anything approaching a vertical surface – but when they do it can be annoying.
Neither can one take the Indego to a specific spot and get it to mow, as it'll take the instruction and then make its own plans. That shouldn't be a problem – so far the Indego has not missed any bits – yet it contrasts with its less-intelligent brethren.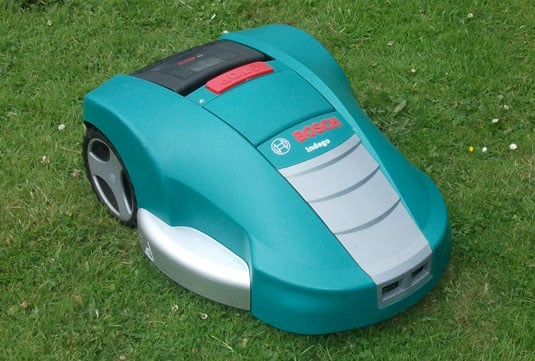 Tennis court need a trim? Bring on the Bosch Indego
The floating blades are a good deal safer than the planks of steel used by other lawnmowers but they don't catch every blade or weed. Carefully progressing in stripes is pointless when there's no roller to show off one's punctiliousness.
A solid blade allows a mower to measure the cutting force required. The Indego's predecessor measured blade speed and shut itself down if the grass was too thick, or a pet's leg was in the way. Indego's floating blades don't permit that; they won't go through Fido's leg or thick grass, but Indego will continue trying none the less.
The usual timing options permit scheduled mowing, while the oversized manual is usefully supported by an online guide. A PIN code should prevent theft, assuming the thieves are aware of it.
The Reg Verdict
The Bosch Indego robotic lawnmower is clever for its class, copes with more complicated gardens than the instructions would suggest, and is no more noisy as any other electric mower. But it won't give perfect stripes, won't cut with the smoothness of a heavy blade, and it isn't as fun as riding around the garden on a portable throne. ®
Bootnote Regular readers of El Reg might remember a project to design and build our own grass-munching robot. Sadly my moving on from The Register halted the completion of that project, thus the interest in commercial alternatives.

Who needs a ride-on mower when a ROBOT will cut your grass
A cut above bargain basement automated lawn care, the Indego will methodically cut all of the grass in a garden - albeit a little picky about boundaries.