Violin's arrays play in Concerto - but they can't hit the dedupe notes yet
Neat foundation for future development, mind
---
In a major architectural extension Violin Memory has revealed its new Concerto 7000 array. This uses Violin's existing 6200 hardware and gives it a separate high-availability controller front end, with software to provide business continuity, data management and protection features - but not deduplication.
Let's just recap Violin's products. The latest 6264 all-flash array was announced in August last year and has up to 70.3TB of raw 19nm MLC flash capacity in its 3U enclosure. The performance is up to 750,000 mixed read/write 4KB IOPS.
Violin's 6200 arrays use Violin's own inline memory modules (VIMMs) instead of SSDs, and run under the control of VMOS software. The company says it has complete control of its flash stack, including VIMM and system management to reduce wear and increase performance and data integrity.
The Windows Flash Array (WFA) is 6200-series hardware with VMOS, running Windows Storage Server 2012 R2 on an embedded blade server inside the array and pumping out data to a Microsoft tweaked Windows SQL Server as well as receiving it.
Then there is the Maestro SAN accelerator product, which can migrate data off third-party SAN arrays as well as accelerating them, and a Symphony single-pane-of-glass management product.
The Concerto 7000 is a 2U high-availability stateless controller pair, using standard X86 servers, that virtualises up to four 6200 arrays connected to the controllers by Fibre Channel – either direct connections or via a switch. Here's a schematic diagram: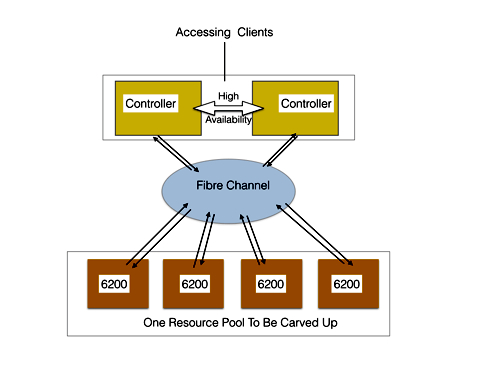 Violin Concerto 7000 scheme
It reminds us a little of IBM's pairing of its SAN Volume Controller, and its data management functions, with IBM's FlashSystem arrays – the same 2-level scheme.
The immediate benefit we see is that Violin now has a foundation from which to scale controller nodes and array nodes separately. Secondly it virtualises the underlying arrays and carves out storage resources, such as LUNs. Storage service policies can be applied to LUNs, which, if linked to applications, mean that the policies can be application-aware.
The 7000's controller software is based on technology obtained from a Violin IP acquisition made about a year ago, and developed since then to increase performance, extend functionality and increase reliability.
We're told it doesn't use ZFS and Violin won't or can't comment about any FalconStor involvement.
This software includes:
Business continuity

Remote, WAN-optimised (packet-level dedupe), asynchronous replication integrated with snapshots
Synchronous mirroring - local/metro (meaning up to 100km)
Zero RPO and RTO
Automated App DR management with app-level snapshots courtesy of host agents: VSS for Microsoft, Oracle agent, SQL and Exchange agents

Data scaling

Scale-up to 280TB by linking four 7000s
Capacity pooling across shelves
Online expansion of capacity
Online LUN expansion and LUM movement from underlying array to array
Single name space across shelves

Data protection

Snapshots (app and crash consistent)
Consistency Groups
Continuous data protection
Transparent LUN mirroring
Backup app integration

Data efficiency

Snapshots (app consistent, writable)
Thin Provisioning
Thin Clones
The Concerto 7000 relates to the WFA in that it is another Violin product, like the 6200s, and Maestro, to be managed by the Symphony console.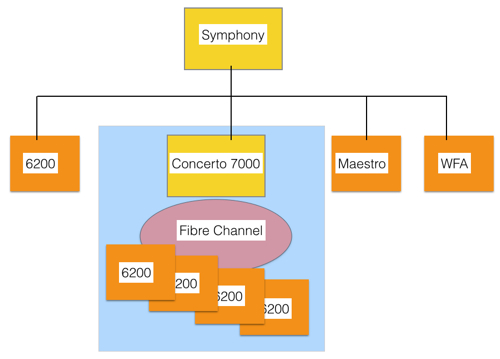 Symphony managing Violin portfolio
We see an immediate possibility in that Violin could have Concerto control faster and be much longer lived in the write endurance sense. SLC flash arrays as well as the MLC 6200s give it a data tiering opportunity, not that Violin said anything about this.
Industry position analysis
How does this alter Violin's competitive position versus Pure Storage and other all-flash array vendors?
The Concerto 7000 provides a base from which to scale out Violin's capacity and performance significantly, in our view. LUN provisioning could include data efficiency, scaling and protection parameters.
Yes, the system lacks deduplication, but our estimate is that deduplication could be added to Concerto, at the controller-level, by year-end. This would be a catch-up in table stakes terms. Violin could make deduplication a matter of choice, by enabling users to turn it on, for VDI say, but turn it off for database workloads.
Deduplication will lower the effective cost/GB so that Violin's competitive positioning against EMC, Pure Storage and other suppliers improves. However we understand that Concerto pricing will be in the $5 -$9/GB area, which, surprisingly, is not that much different from Pure Storage. Its low-end model pricing for the FA-405 and FA-450 arrays is $6 - $8/GB and $3 - $4 for its larger systems.
We might imagine that a VDI Concerto 7000 system with dedupe running at a 5:1 ratio, not unusual, could reduce Violin's effective price/GB well into Pure territory and perhaps below it.
Symantec's Storage Foundation data management software has been available on Violin's arrays for some time. Our reading of this is that the Concerto 7000 software stack could signal the end of that arrangement is nigh.
Our reading of Violin's competitive stance us that it actively tries to run VMAX-class workloads on its arrays and the data management features that come with Concerto help that. In its view Pure Storage talks a VMAX talk but walks a VNX replacement walk. Violin sees itself as an enterprise array provider and Pure, XtremeIO and other all-flash arrays, and hybrid arrays, as small and medium business and low-to-mid-enterprise-class products.
Violin's hardware roadmap was not revealed to us but we think its intent is to double flash density every 20-24 months as well as increase performance. So El Reg's imaginings include a possible 140TB 6200 successor in 2015 which goes significantly faster than the 6200 and uses a smaller NAND geometry, 16nm possibly. We understand the Violin-Toshiba relationship is strong.
We would also hope to see Concerto scaling out both controller nodes and flash arrays – we might see an uplift to 8 x 6200s for example. It might also be possible to add third-party flash arrays as Concerto-abstracted flash resources.
Another possibility we see is a smaller and more integrated Concerto product, with the Concerto software running on the 6200 array's embedded blade servers. That would make a possibly enticing lower cost Concerto functionality product for smaller requirements.
Violin has been in deep trouble; the CEO change testifies to that. This Concerto hardware and software increases the scalability of Violin's offering and substantially increases its data management capabilities – not all the way though, as dedupe is still a few months away.
Concerto should show its customers that it is a technically innovative company and there is a good foundation for product development. Let's hope its business performance enables this development to happen. ®