This article is more than 1 year old
FAA shoots down delivery by drone plans
Farming-by-drone also a no-no says party pooper regulator
The United States' Federal Aviation Administration (FAA) doesn't mention Amazon Prime Air, but it's intentions look pretty clear: toy aircraft, including the remote control quadcopters mooted by Jeff Bezos in a December 2013 interview with CBS, aren't for commercial purposes.
As readers will recall, Bezos sparked equal measures of excitement, incredulity and hilarity when he told the world that one day, Amazon would use quadcopters.
At the time, Amazon hoped that the FAA would see the world through Jeff's eyes by 2015, but in this media release, the administration has shot down the idea.
It's a decision that will almost certainly be closely watched by other airspace regulators around the world.
In opening this notice for comment, the FAA says "the Act's model aircraft provisions apply only to hobby or recreation operations and do not authorize the use of model aircraft for commercial operations. The notice gives examples of hobby or recreation flights, as well as examples of operations that would not meet that definition" (emphasis added).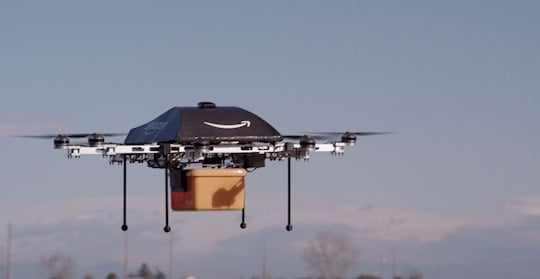 To make absolutely sure that its meaning isn't mistaken, the FAA's notice includes "delivering packages to people for a fee" as excluded from allowable uses of drones, noting that even "free shipping" would be excluded.
The administration also reiterated that such craft must "be flown within sight of the operator", which is also awkward. The notice explains that "the statutory requirement would preclude the use of vision-enhancing devices, such as binoculars, night vision goggles, powered vision magnifying devices, and goggles designed to provide a 'first-person view' from the model."
Even if the "commercial purpose" of a delivery flight were overlooked, it would give rise to the rather hilarious state of affairs in which each delivery drone had to be accompanied by its operator for the whole of the trip.
There is, however, a more serious side to the debate that the FAA has opened up. Right now, its interpretation of the rules states that using drones as part of a commercial farming operation is also excluded from the current definitions. That's probably going to spark a lot more resistance than Amazon Prime. ®