After the driving the Citroen C-Zero, the Volkswagen e-Up! is a fantastically different experience.
It shouldn't be quite so much better, as the VW is cheaper (£19,704 as opposed to £21,216 – both prices including rebates) yet while the Citroen is clearly engineered to a price – albeit a typically electric twice the internal combustion engine equivalent – the e-Up! (we'll dispense with the irritating exclamation mark here and now before the sub-editor has an aneurysm) has a Germanic feel of solidity.

We reviewed the original petrol-powered Up! some while ago and found it to be a rather nice small car. The e-Up is the first electric car I've driven which does not appear to have creep engineered in. Most others start to roll forward like a torque-converter-based automatic when you take your foot off the brake. This takes the edge off the acceleration.
The e-Up really does give all the torque from standstill and that makes for an entertaining party trick. You can set a Tesla S up to do the same as creep is a menu option on that, but then you could buy four e-Ups for the price of a typically specified Tesla S.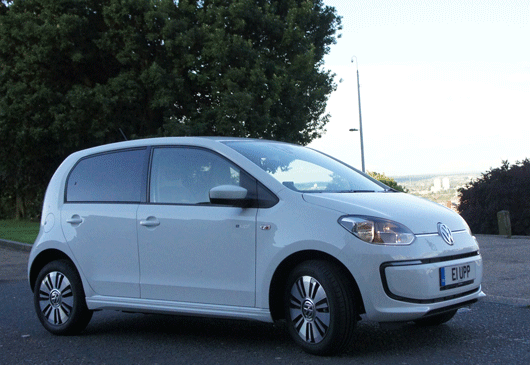 But starting with a jolt isn't the only reason the e-Up is fun to drive. It corners pretty flat thanks to the weight distribution and of course has the spooky silence of an electric car. While I love the roar of a V8 or scream of a V12 I also enjoy the sci-fi silence of electric.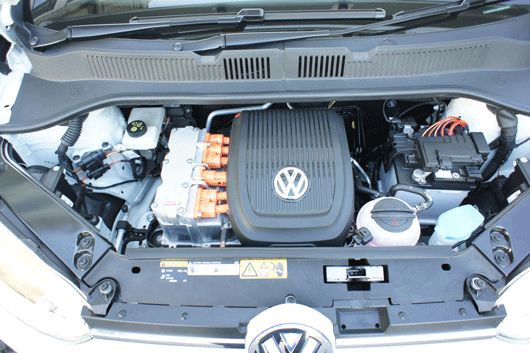 So there is a substitute for cubes
It may only have a 60kW (81bhp in old money) motor sitting in the traditional space under the bonnet and driving the front wheels, but with a 210Nm (155lb ft) and all the battery weight low down between the axles, it's a nippy little thing despite tipping the scales at 1,139kg – of which 230kg is batteries. The 0-62mph (100kmph) stat of 12.4 seconds and top speed of 81mph (130kmph) sound pedestrian but really aren't. That engine is more powerful than either of the options in the petrol engine version, and the acceleration 0.8 of a second quicker to 62, although top speed is down on the petrol-burner – which may be a way of keeping the reins on the range.
With the car weighing 1.1 tonnes and lots of torque you can expect to buy quite a lot of these
With that much power through the front wheels via a single-speed gearbox I would have expected some torque steer but, perhaps because the wheels are narrow, there wasn't any. And it seems to be electronically managed to prevent any boy-racer tyre squealing. I generally don't like assisted steering and particularly not electrically assisted – which has become the norm and which is what the e-Up uses – but the feel is reasonably good.