Google has begun notifying European Union-based netizens that its search results have to respect the 28-member-state bloc's 19-year-old data protection law.
The ad giant has plastered the warning on its search engine across the EU from today. But, anyone living in those countries who navigate to Google.com will find that the "censorship" - as Mountain View has wrongly attempted to characterise it - will no longer apply.
It appears to be supremely easy to dodge what Google boss Larry Page recently said was regulation of the internet in Europe.
Anyone visiting the ubiquitous search engine's landing page, such as Google.co.uk, will see a "Use Google.com" button in the bottom right-hand corner.
Clicking on that function apparently brings back any links that the ad giant may have removed following requests from individuals who wanted certain queries killed.
A landmark decision from the EU's highest court in May ruled that Google can be held responsible for the type of personal data that appears on its search engine, which commands roughly 90 per cent of the market in Europe.
But many were quick to inaccurately suggest that the ruling meant that a strong so-called "right to be forgotten" online had been established.
In fact, Google can say no to complaints and it's ultimately up to the courts and national data protection regulators to decide whether individual gripes carry weight or not.
The European Court of Justice affirmed that privacy was a fundamental right alongside free expression. And it ruled that Google, as a massive corporation that operates within the EU, had to acknowledge the rights of individuals, who can reasonably ask for "inadequate, irrelevant or no longer relevant, or excessive in relation to those purposes and in the light of the time that has elapsed" links to be removed.
Late last month, Google hastily threw together an online form that EU-based netizens could fill in to submit requests for certain types of links to be removed from the ad giant's search index.

This warning now appears at the bottom of Google search in the EU
Google claimed to the Wall Street Journal that it had a backlog of requests to sift through. A figure of 41,000 such complaints being received in the days after the ruling was floated to the press from Google last month in a clear effort to hype its "censorship" claims.
It told the WSJ on Thursday that the objections to links in its search index were being "assessed individually" and added: "we're working as quickly as possible to get through the queue."
But, for those who want a workaround to the ruling, Google.com is your friend.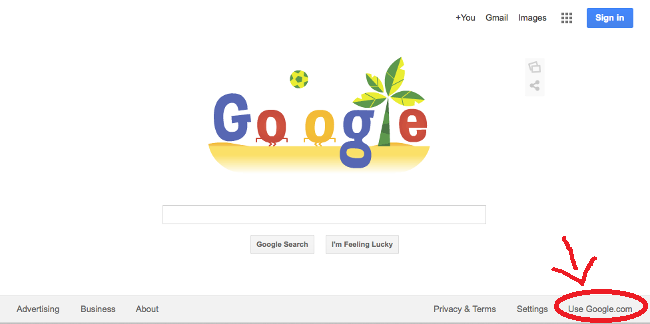 If, like Vulture Central's backroom gremlins, you can't find the 'use Google.com' button, this graphic may help you
Interestingly, the competition wing of the European Commission recently rejected a complaint about Google.com in Brussels' long-running antitrust row with the multi-billion-dollar firm. The case is focusing on allegations that Google abused its dominant position in search in Europe with a settlement deal - in which Mountain View does not have to admit any wrongdoing or pay a hefty fine – and a decision is expected later this year.
Mapping outfit Hot Maps had challenged the Commission's decision to ignore search queries carried out by EU netizens on Google.com.
But Brussels officials dismissed the gripe and said they had been satisfied with stats provided by Google that appeared to show that fewer than five per cent of all searches by EEA netizens were performed on the google.com domain. ®
Similar topics