Physicist proposes 1,000-foot state-sized walls to stop tornadoes
Man-made mountains would tame Tornado Alley, says master builder
Do you fear extreme weather events as climate change increasingly roils our atmosphere? Chill, Cassandra; a US physicist has a plan for preventing devastating tornadoes in the American midwest: build a series of Brobdingnagian 300-metre-high walls to enclose Tornado Alley.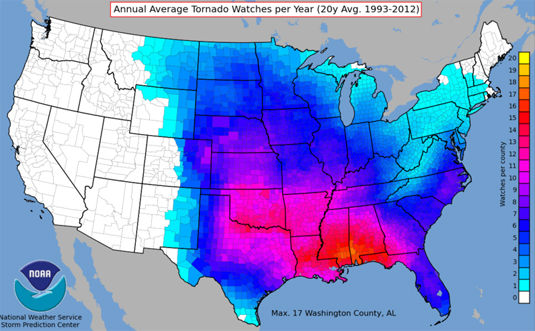 Fear not, Reg readers, San Francisco's Vulture Annex is completely safe – except for earthquakes, of course
(click to enlarge)
Citing the clash of opposing warm and cold air fronts as the cause of Toto-terrifying twisters, Rongjia Tao of Temple University writes: "If we build three east-west great walls in the American Midwest, 300m high and 50m wide, one in North Dakota, one passing Oklahoma to east and the third one in the south Texas and Louisiana, we will weaken or block such air mass clashes and therefore diminish the major tornado threat in the Tornado Alley forever."
Tao presents his argument in a paper published in the current issue of the International Journal of Modern Physics, entitled in reasonably descriptive fashion, "Eliminating the major tornado threat in Tornado Alley."
Tao blames the lack of mountains in America's flyover states heartland for Tornado Alley's annual devastation. Without mountains to block those conflicting air masses, the midwest and south become a "zone of mixing" in which warm, moist air from the south and cold air from the north smash into one another, causing a vortex that can intensify, increase in speed as it narrows, and eventually touch down.
Tao's paper notes that the Northern China Plain and the Eastern China Plain has a similar zone of mixing – but since those areas have three east-west mountain ranges to hinder the mixing, tornadoes rarely occur in the mountain-protected regions of those plains.
Tao's solution for the US, therefore, is to create artificial "mountains" to break up the airflow. And no, he's not kidding.
"Building such walls are feasible," Tao told Motherboard. "They are much easier than constructing a skyscraper. For example, in Philadelphia, the newly completed Comcast building has about 300 meter height. The wall with similar height as the Comcast building should be much easier to be constructed."
He also has a proposed building sequence. "While building the three great walls will eventually eliminate major tornadoes in the entire Tornado Alley," he says, "we do not expect to start such a huge project in the near future. On the other hand, it is more realistic to build such great walls locally at high tornado risk areas first, then connect them piece by piece."
To build the walls would be cost-effective, Tao insists, estimating that building one mile of wall would cost a mere $160m – chickenfeed when compared to the multi-billion dollar destruction of a major tornado such as the one that struck Moore, Oklahoma on May 20, 2013.
As Mark Twain may or may not have said, "Everybody talks about the weather, but nobody does anything about it."
America's most celebrated humorist never met Dr Rongjia Tao. ®