Occupy Google: Protesters attack ad giant as I/O gets underway
There is no TRY not to be evil, says Yoda, only DO
Google's I/O dev conference is traditionally a time when the company basks in the love of its community: but some other Bay Area residents have been making their displeasure with the Chocolate Factory known in a very vocal fashion.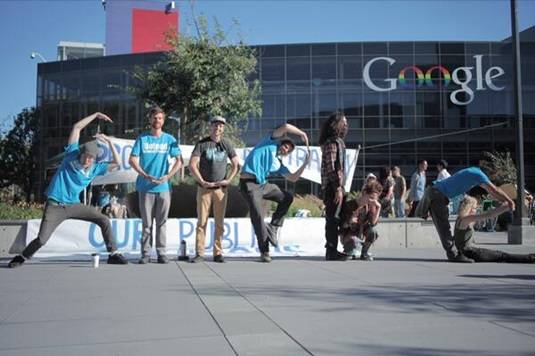 "Give me a G..."
A group working under the hashtag Occupy Google briefly set up an encampment outside Google's Mountain View headquarters yesterday evening to protest about the company's perceived lack of support for net neutrality.
"Google, with its immense power, has a social responsibility to uphold the values of the internet," the activists wrote on their website. "We encourage Google to engage in a serious, honest dialogue on the issue of net neutrality and to stand with us in support of an internet that is free from censorship, discrimination, and access fees."
According to the protestors Google said that they were welcome to stay but might get wet from the firm's garden sprinkler system. But as night came the local police turned out and broke up the protest, with 10 arrests for trespassing reported.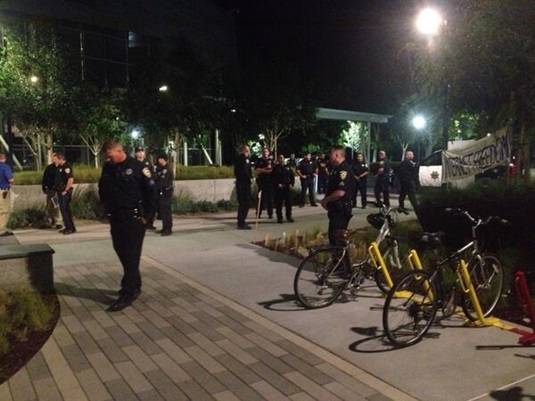 And it all ends in tears
At the conference kicked off there was another protest outside the Moscone Center housing conference delegates. Protestors, some dressed as Star Wars characters, handed out leaflets to attendees queuing outside and held up placards protesting evictions in San Francisco, and particularly those carried out by Google lawyer Jack Halprin.
Halprin bought a seven-apartment building in San Francisco's Mission District two years ago as a personal investment, and in February began evicting tenants using the much-reviled Ellis Act. His case has become a focal point for protestors angered that well-heeled tech-media types are taking over parts of the city and turning them into suburbs of Silicon Valley.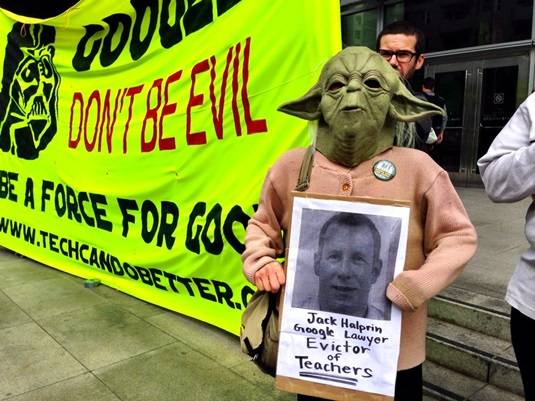 Possibly Google's least popular employee to San Franciscans
A woman claiming to be one of the tenants Halprin is evicting managed to get into the conference venue and interrupted the keynote to hold up a sign protesting his actions. The speaker at the time attempted to talk over her before security arrived and she was politely but firmly escorted from the building.
About an hour later the keynote was interrupted by another protestor. The man shouted that Google was building "robots that kill people," (presumably a reference to the company's purchase of Boston Dynamics – a robotics company that doesn't build Terminators). He too was ushered out of the conference venue by security. ®