This article is more than 1 year old
WORLD CUP TRAUMA? Just Streaming Stick a Roku in it
Change the channel with a dongle doohickey
Review If you share telly viewing with a masochistic soccer fan, you might well be tempted to consider alternative goggle box entertainment... er, Wimbledon perhaps?
At least Blighty's entrant into the southwest London tennis competition stands a chance of winning – having prevailed last year. There's more to telly than sport, though, in much the same way that there's more to streaming telly than the BBC iPlayer and YouTube.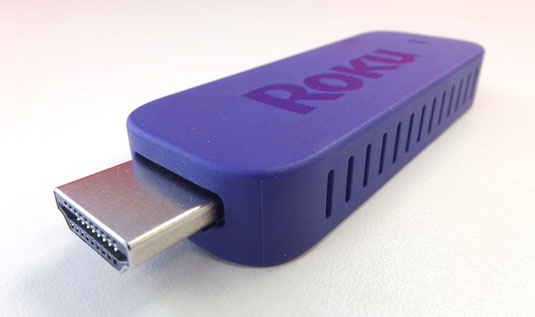 Roku's Streaming Stick – smarten up your old TV with a dongle doobry
Google's Chromecast stole a march on Roku's latest Streaming Stick in marketing a simple dongle to plug into any HDMI telly, PVR or projector. Roku had done this before but in its earlier model, the interfacing relied on the functional but less common MHL connector to draw power and deliver video.
The new Streaming Stick isn't too different to its predecessor and compared to the Chromecast, these two devices are much the same from the outside, each with an external power supply.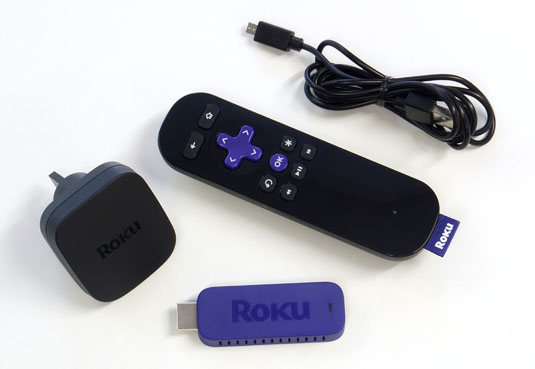 Just in case your telly or projector has no USB, you get a PSU too
Where they vary is that Roku provides a remote control and supports dual-band wireless (2.4GHz and 5GHz), whereas the Chromecast lingers in the 2.4GHz domain and provides an HDMI extender out of the box. If you want one from Roku, you have to fill in an online form to receive your complimentary cable. I gave it a try and, as my Roku serial number was rejected, I'm wondering if this offer is US-only.
To get the Streaming Stick up and running, you need to create your own login on the Roku website and then go through the motions of configuring the dongle for remote pairing and Wi-Fi access from the TV screen. After that, the Roku generates an activation code on-screen that you need to enter into your web browser to link the device to your account.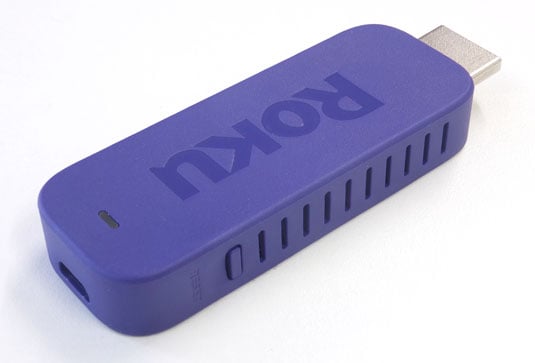 If all goes a bit Pete Tong, there's a reset button
As some of the 450 streaming channels available require subscriptions, credit card details have to be entered to enable registration. Naturally, there's the BBC iPlayer, YouTube and Netflix as well as 4OD, Demand5 and Now TV, which provides access to Sky Movies and Sky Sports.
While appearing easy enough, set-up wasn't entirely glitch-free. At first it didn't get beyond the Wi-Fi authentication, but after pulling the power from the micro USB port and trying again, all was well. The remote is certainly worth having and easy to get used to, apart from the lack of volume control, something which graces the Roku 3.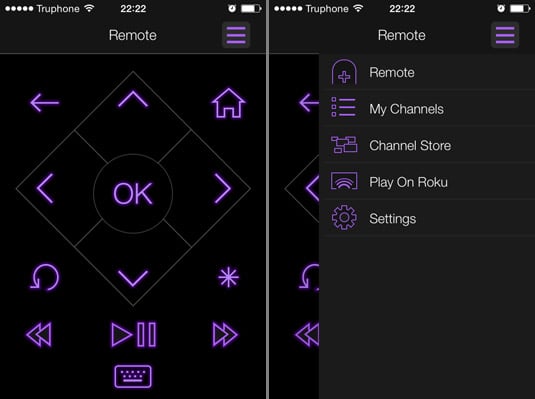 The remote app does more than just navigation
At twice the price of the Streaming Stick, the Roku 3 remote has a headphone jack socket tucked away in the device which receives soundtrack audio wirelessly so you can listen privately. It's a nice touch but eats the batteries.