Discovery channels
The Streaming Stick features nothing more than an HDMI connector, a micro USB port for power and a reset button. You won't find any media card slots on this device – that's another nicety reserved for the Roku 3, but if you've a NAS box you might find you don't need these additions.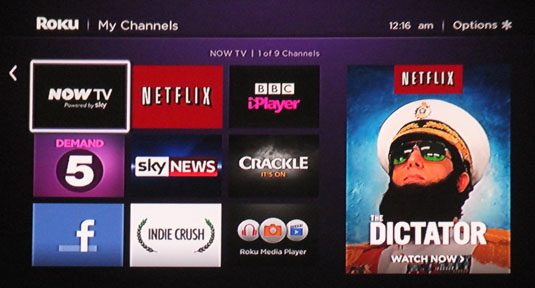 My Channels populates with your choices of free and paid for content providers as well as utility apps
Roku's app will also perform all the usual navigation functions as well as accessing content such as video, photos and music from your phone. Whether you're using the handheld remote or the app version, there's an initial delay while either of these devices wakes up and makes contact during a viewing session.
That momentary delay is nothing compared to the time it takes the Roku to boot up – which would put a 1950s black-and-white telly to shame: typically, about 75 seconds tick by. Truth be told, the Chromecast was just as bad and then you have to go through it all again when you fire up Netflix.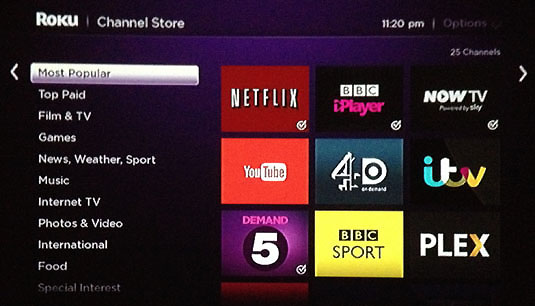 Plenty of channels, some good, some... well, it takes all sorts
That said, Netflix has updated its mobile apps recently to improve login speed and followed that up this with a Roku app announcement stating, "This enhancement will be rolled out to all Roku 3 players and the Roku Streaming Stick (HDMI version) starting June 24 and is expected to be completed by mid-July."
I checked for an update, but nothing yet.
Start-up defaults to the My Channels page, which is already populated with a few streaming stalwarts. You can reposition the channel tiles and of course remove them. The Channels Store provides additional content arranged by Popularity, Top Paid and various themed categories, including apps for Facebook and games, which you just tick off to add to your My Channels section. You'll find more here than on rival streamers, but for UK users, Amazon Instant Video is absent.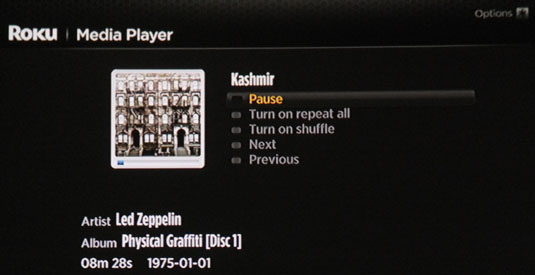 The media player appears alongside the channels and will show album art if available
If you're not satisfied with what's on offer and think you can do better, Roku's developer programme is free and so is including your channel on the roster available for the platform. As live streaming is supported, this might appeal for certain events, however, if you're planning on setting up your own VOD service, you'll have to host the content yourself.
I did most of my testing at home and would have welcomed having an HDMI extender as the dongle was at a slight angle slotting into a slightly bulbous Samsung TV back panel, but it did work, taking power from a free USB port.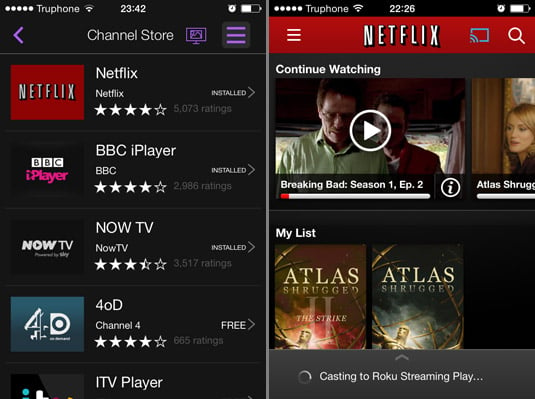 Choosing channels and searching from the app can be quicker than using the Roku remote
I also used it extensively plumbed in to a Pure Avalon 300R PVR which has iPlayer and the Pure Connect streaming service, but sod-all else. I have the Avalon hooked up to a Philips PicoPix – a tiny projector that works a treat in the bedroom. With this set-up I entered the world of Netflix for the first time and wondered what all the fuss was about.
Sponsored: Ransomware has gone nuclear