NBN Co reveals THOUSAND-node FTTN trial built by Telstra
Alcatel Lucent kit will dig out the copper from Big T's brains
---
NBN Co has selected Telstra as the builder of a 200,000-premises pilot of fibre-to-the-node technology in order to pick the copper from its brains.
NBN Co, the company charged with building and operating Australia's National Broadband Network (NBN), today said the carrier was chosen in order to "leverage Telstra's expert design knowledge of its copper network combined with NBN Co's own skills and resources as well as those of the Australian construction industry."
NBN Co's statement about the build says it will comprise 1,000 nodes in Queensland and New South Wales.
Media reports claiming sources within communications minister Malcolm Turnbull's department have put a price tag of $150m on the deal.
Telstra's selection for this gig, and the price paid, do not appear to represent any kind of wider agreement between NBN Co and the legacy carrier.
Indeed, NBN Co's statment about the deal offers this sentence - "Talks between the two companies regarding the renegotiation of the Definitive Agreements, including access to Telstra's copper to support FTTN-based services, are ongoing and progressing well" - as something of a footnote to the announcement of the trial.
Another small nugget of related news came from parliamentary secretary to the minister for communications Paul Fletcher, who tweeted what looks like a VDSL node.
With @TurnbullMalcolm announcing the #NBN-Telstra deal to roll out 1000 FTTN nodes around Australia #commsau pic.twitter.com/S45OSnZIkQ

— Paul Fletcher (@paulwfletcher) June 26, 2014
No timeframe for the pilot's commencement or conclusion has been announced.
Residents of the Queensland locales of Bribie Island, Warner, Caboolture, Bundaberg and Gympie will become FTTN guinea pigs, as will New South Wales residents in Belmont, Boolaroo, Morisset, Hamilton and Gorokan.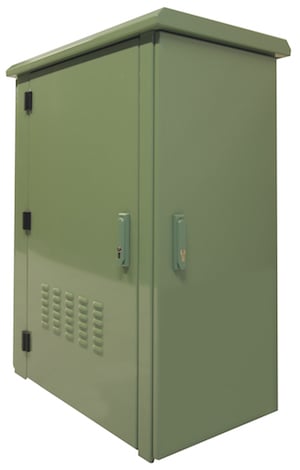 Alca-Lu's mini-node
The trial looks set to rely on Alcatel Lucent kit, with the company unveiling a node cabinet measuring 85x1150x500mm. That box can hold enough of the company's ISAM 7330 VDSL2 kit to operate 384 VDSL lines.
Alca-Lu claims ISAM 7330 kit can deliver "100 Mb/s and beyond with VDSL2 vectoring".
The company also says it has designed a cabinet for Australian purposes that is smaller than those it offers in other territories. Below you'll find the company's illustration of the Australian box, which for once will leave Aussies happy to have something smaller than their Kiwi cousins.
Media reports suggest that this trial will cover about 200,000 premises. With 1,000 nodes involved, that's nowhere near the potential 384 users per node. But it does give us a cost for FTTN deployments of about $750 per premises.
Australia has about 10 million premises, of which about two million are expected to be offered either hybrid fibre coax or optic fibre connections. Another million or so are expected to get fixed wireless or satellite connections leaving about five million to VDSL. At $750 a head that's $3.75 billion, nicely below the price at which the government said the whole NBN would be delivered.
That many of the locales chosen for this trial are low-density suburbs will hearten the government because denser city locations where more people live require less expensive and backhoe intensive work.
But with a Telstra deal yet to be cut, no matter how cordial relations have become there are surely many opportunities for costs to shift. ®

Similar topics
Broader topics