Businesses are being served printed 'Notice of Extortion' letters demanding Bitcoins to avoid 'severe and irreparable' damage to their reputation.
A handful of US Pizza restaurants have reported the scam to local newspapers, and to Reddit. The letters appear to come from the same extortionist.
The letters demanded payment of one Bitcoin (US$578) within a month or have the fee escalated to three coins (US$1730).
The villains threatened a laundry list of attacks for non-payment ranging from "negative online reviews" and complaints to the US Better Business Bureau, to denial of service attacks against telephones, mercury contamination and various reports to police of false financial crimes and drug production allegedly taking place at the victim business.
"Because many of the actions we take are catastrophic and irreversible, it is advised pay the tribute before the deadline is reached," the letters read.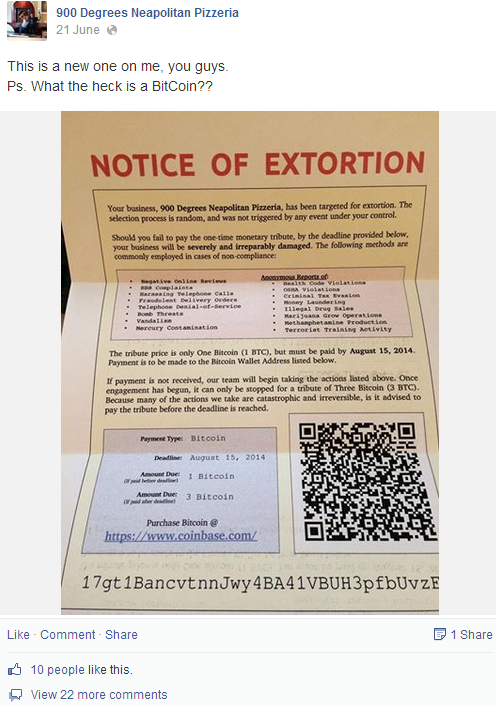 Victim businesses refused to pay the extortion while Reddit users laughed at the 16 threats within the letter pointing out they functioned as a handy list of federal crimes which could see the attackers jailed should they be captured.
Others have suggested the attackers may be tracked using printer stenography, a technique that makes it possible to identify the make and model of printers used to create a document.
The owner of US pizza business GRPD Pizza and Delivery Mike Raymond told local station 24 Hour News 8 he thought the extortion letter was a joke.
"They're taking your lunch money, and we're not going to let them," he said.
Digital wallets linked to the letters did not appear to have recieved payments.
The letters were the latest vector for delivering Bitcoin ransoms, a favourite for online fraudsters due to the anonymity the currency afforded.
Such threats were typically issued by ransomware scammers demanding payment to unlock encrypted victim files, and by hackers threatening to leak sensitive information or launch distributed denial of service attacks unless money was paid. ®
Similar topics