This article is more than 1 year old
What a whopper, LG: Feast your eyes on this 77-inch bendy TV
World's first curved 4K OLED set makes its UK debut
Pics LG gave the UK press its first gander at its world's first curved 77-inch 4K OLED TV in London yesterday, choosing a live World Cup football match to show off its handiwork.
Indeed, screening the beautiful game was somewhat fitting, given footballers will be among the few likely to afford its £19,999 price tag when it goes on sale in October this year.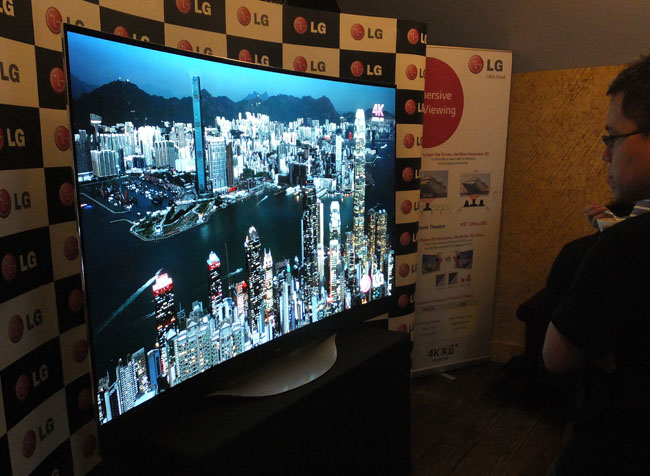 Up close: the LG 77EC980V actually looks a whole lot bigger than this pic shows
Set your sights on the 65-inch model that will be available at the same time and you could enter the exquisite world of deep blacks, detailed imagery and that warped curved immersive viewing experience for a mere £5,999.
Before kick-off, all and sundry were treated to some luscious Ultra HD 4K (3840 x 2160-pixels) showcase footage on the 77-inch behemoth. Delivered in lifelike clarity, on display were various scenes from the natural world to cityscapes and the eye candy of a fashion show catwalk. There was also a clip from The Hobbit: The Desolation of Smaug, which was actually 1080p upscaled and had most people there fooled.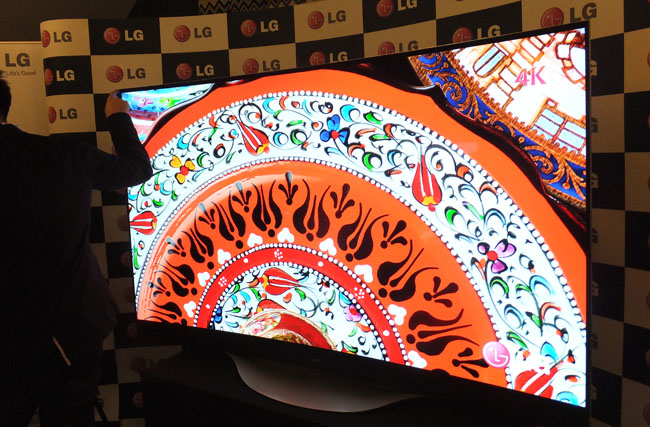 Up against some bod gives some idea of the screen's expanse
Although Netflix 4K will be supported, currently, facing a dearth of 4K content, upscaling is going to play a significant role in filling a 77-inch panel. Algorithms in LG's 4K Engine Pro can handle SD, HD and Full HD to produce a convincing image… if you don't sit too close.
The demo content was all being run from a USB stick stuck in the back panel and LG claims a level of future-proofing: it can decode current H.264 future H.265 HEVC broadcast formats as well as running 4K content from peripheral devices via USB, HDMI or LAN.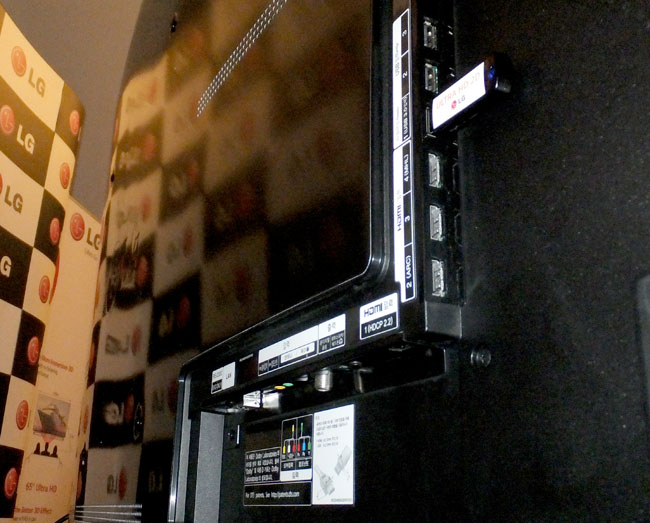 The back panel features ports aplenty – herewith a USB stick inserted to run the 4K demo content – click for a larger image
Whatever you think about curved TVs, the OLED tech is pretty special, even the LG 55EA980W 55-inch Full HD model that's been on sale for a year costing £3,999 is a cut about anything conventional LED panels can muster. But at these prices, that's precisely what you'd expect.
Vivid, faithful colours and image clarity aside, what you also get are great viewing angles regardless of whether it's 4K or Full HD. There's no shading or "colour wash" (in LG-speak) with off-axis viewing, even at the extremes. Sure, the curvature will help a little, but it doesn't strike me as an essential feature.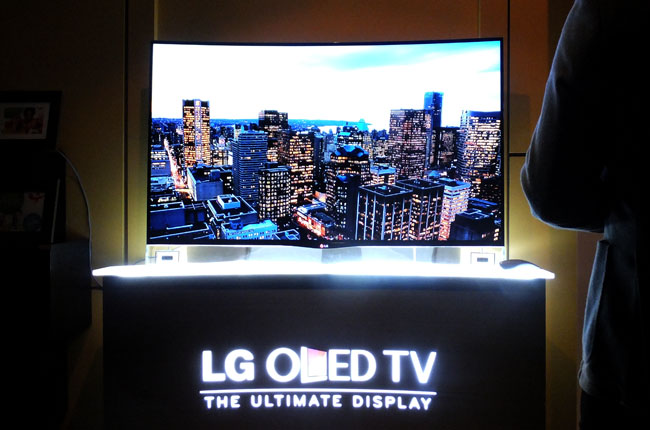 LG's 55EA980W 55-inch OLED TV has been available for a while now. It's not 4K, but its Full HD picture is dazzling
As intended, when viewed straight on from the sweet spot, you don't even register the panel as bowing at all, but is it more immersive? Let's see a flat 77-inch OLED panel for comparison, and then we'll know.
The new 77-inch (77EC980V) and 65-inch (65EC970V) TVs will feature LG's much-vaunted webOS Smart TV platform that offers intuitive navigation and searching of content and a range of telly-tweaking features. Sonically though, it's not outstanding, although it does feature built-in sub bass drivers. Unsurprisingly, LG reckons punters splashing out on its 4K flagship will be plugging in to a suitably over-the-top home theatre sound system.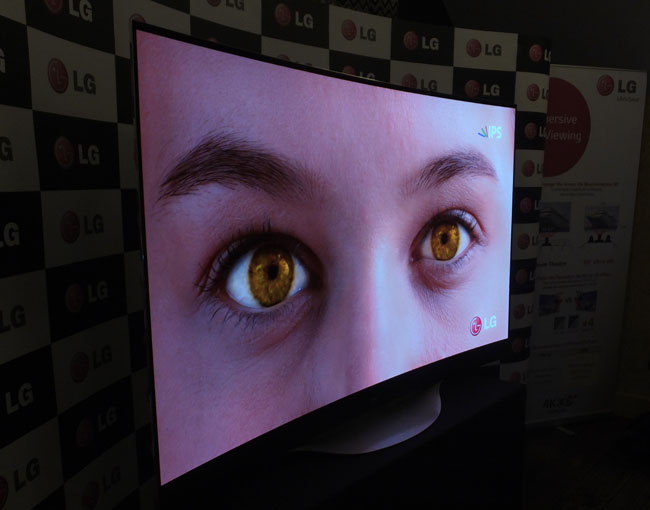 Off-axis viewing on an OLED panel suffers no obvious shading effects or "colour wash"
Even though the detail in 4K OLED panels has been said to be enough to make 3D redundant, LG does include its passive Ultra Cinema 3D viewing tech to tick that box if you've stereoscopic content to savour.
As for the football, I didn't want to stick around for scenes of private grief as, perhaps inevitably, LG's home team, South Korea, lost to Belgium: 0-1. At least by the time the next World Cup appears, watching South Korea on an OLED TV is going to be a good deal cheaper. Whether tellies will still be made to bend it like Beckham remains to be seen. ®