Permabit is still aiming to strike OEM gold from its dedupe technology and has added compression to its Albireo deduper, aiming to help disk array vendors compete better against the all-flash and hybrid array startups.
The idea is to enable disk array vendors to offer reduction of primary data, generally unavailable currently, and so get their cost/GB way below the all-flash and hybrid vendors, who are reaching down to the £2/GB area by using deduplication to increase their effective capacity.
Permabit calls its technology HIOPS compression and it first tries to deduplicate new data blocks. When a block is unique then it is added to an index and HIOPS compresses it for storage. Permabit says it can dedupe with 200,000-plus IOPs/core and compress at more than 100,000 IOPS/core.
It claims "up to 14 compressed blocks can be stored in a single space at once, and random writes are converted to sequential, both greatly accelerating underlying I/O."
Deleted block space is immediately available with no garbage collection process. A data read request retrieves a full 4 KB compressed block into cache, so future read requests are possibly accelerated as well.
Permabit provides this example of possible cost savings with HIOPS Compression:
With 5:1 data reduction, slashes costs by 75 per cent
$70,000 savings per array up front
$160,000+ savings over 5 years
It says HIOPS is best suited to structured enterprise storage data and sees an $11bn market for its target storage array customers.
The company says it has 45 employees and its Albireo technology is shipping in 1,500 storage arrays a quarter. First customer ship was in the first 2013 quarter. Growth to the first 2014 quarter was 100 per cent.
The message to legacy storage array vendors is that they can use Albireo inline compression and dedupe to offer primary data reduction, more IOPs, and selling on effective capacity, and so prevent ingress into their accounts by startups like Pure Storage and Nimble Storage.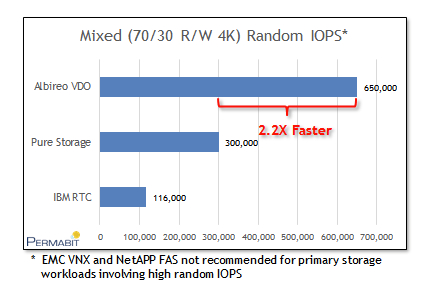 Permabit says an EMC XtremIO array offers 100,000 random write IOPS, 250,000 random read ones and scales up to 60TB. A legacy array using Albireo can offer 350,000 random write IOPS, 450,000 random read ones, and scale to 4PB. It hasn't told us what array that is but has graphs showing an Albireo-using array far outstripping NetApp FDAS, EMC VNX and Pure Storage products.
It says its Albireo-using array is 2.2 - 2.3X faster than Pure Storage's all-flash array in terms of write throughput and also mixed (80/20 read/write) 4K random IOPS, and the chart above shows this.
Permabit asks rhetorically: "Why would anyone buy Pure or Nimble if they can have a cost-efficient array from their preferred vendor?"
No doubt it will reveal array supplier and product details to interested legacy array vendors who approach it. Read more about it on a Permabit blog. ®