This article is more than 1 year old
LG drops G3 quad HD Android mobe with FRIGGIN' LASER camera
Could this be the Android handset of the year?
Putting on a display
LG notes that you can wake the phone and turn off the display by double tapping on the screen. Or, you can buy the quite beautiful and well thought out a magnetic flip cover which will wake the phone as usual. Yes and yes: but the double tap stops working when you use a third party launcher, and given the state of LG's skin – which I'll come on to – the discerning 'Droid user will probably want to.

Light weight and deceptively slim
With a pixel area four times the size of a standard HD screen (or, if you like, 1.8x the pixels of a full HD telly), the screen is the G3's showpiece – complementing its 13Mp stills camera and 4K video capture. Games I tried - Badland and Smash Hit - looked good, and sounded great, thanks to the 1W speaker. In all the G3 has 11m sub pixels, so there is extraordinary detail, literally more than you can see.
All well and good, but is it legible outdoors and does the Quad HD screen kill the battery? Yes, and not so much, I found. The IPS is perfectly acceptable on a rare sunny June day and while the device doesn't chug along as it might on a 3,000mAh cell, LG's power saving has given it a useful stretch – one it can replicate usefully in other models.
Laser focusing camera enables accurate and rapid snapping
LG reckons that by using adaptive frame rates, and other tricks, it's chiselled out about 20 per cent battery savings. In all, I found I could get a day out of typical use if I wasn't playing games. There's no getting away from the fact that the display draws a lot more power than standard HD displays, and most of the time you cannot see the Quad HD advantage – but in practice it gets you through the day.
LG didn't cut corners by omitting a microSD slot; it's present and correct. And it's particularly good to see Qi wireless charging included, as once you have a couple of charging pads installed where you most use the phone, the battery life ceases to be a worry – it's always topping up.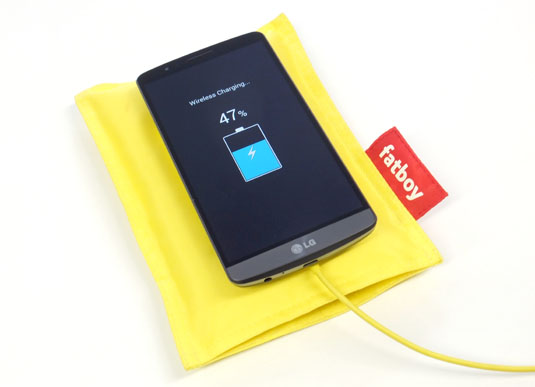 Topping up the power wirelessly on a Nokia Qi charger
Qi is built into a few Nokia Lumias and Google's LG-built Nexus, but has not yet appeared on a popular, operator-subsidised phone. With prices for chargers now as low as £14 on Amazon, you should pick up a handful. Or even pop for a wireless battery pack like the Nokia DC-50, that never needs to be plugged in. You won't regret it. It's also nice to see infra-red blasters returning to phones – LG bundles in a Quick Remote app so programming your own Peep Show Master Blaster is straightforward.
Software fit and finesse
LG says it's aimed for simplicity and tried to remove clutter with the G3's software experience – but if that was the goal, we will have to judge it harshly. Tier 1 Android device manufacturers have, in recent years, attempted to add their own cumbersome skins and stuff the phone with their own-brand duplicate apps, and felt a backlash.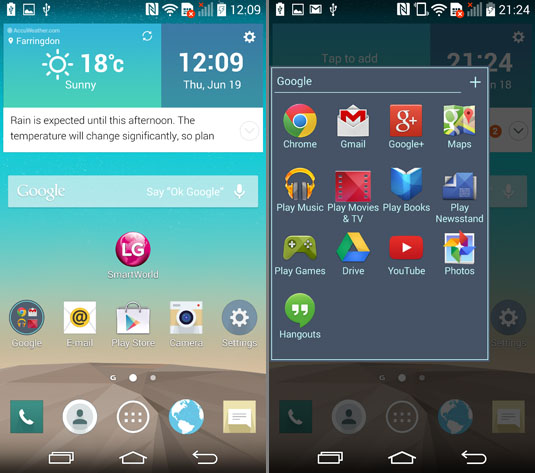 Homescreen – tapping the circular Google folder brings up a cluster of apps
Google has developed its own "stock" and Play Edition phones, and this no-frills Android has been popular at both ends of the market: at the tech-savvy end, where people add their own launchers, and at the bottom, where they want a basic feature phone, and stock Android is plenty good enough.
LG, which developed the most recent Nexus phones for Google, finds itself between two stools. Compared to stock Android, it's a performance with a lot of dissonant notes. I wouldn't grumble here as a bumpy ride has always been part of "the Android experience" – and it's an Android world now. But Android has got much better.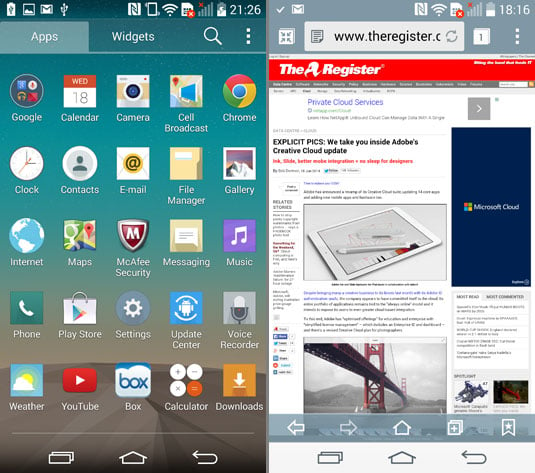 Apps and browser
In particular, this year HTC has shown that it is possible to tame the wildest contours of the Android experience, and yet not bloat the device in the process. While LG's 2014 skin is simpler than before, it doesn't match the consistency and superior design of HTC's current offering.