This article is more than 1 year old
LG drops G3 quad HD Android mobe with FRIGGIN' LASER camera
Could this be the Android handset of the year?
Thoughtful gesture?
Yes, most duplication has been removed; the LG store "LG SmartWorld" is fairly easy to avoid. But inconsistencies and yeuchs abound. For example, the G3's screen populates with new apps very quickly, giving you an out of space error. Adding widgets "the preferred LG way" is incomprehensibly difficult, as it gives you a small horizontal window that can only show two or three at a time. There is no visual indicator showing you how to add additional home screen panels, and no help to consult.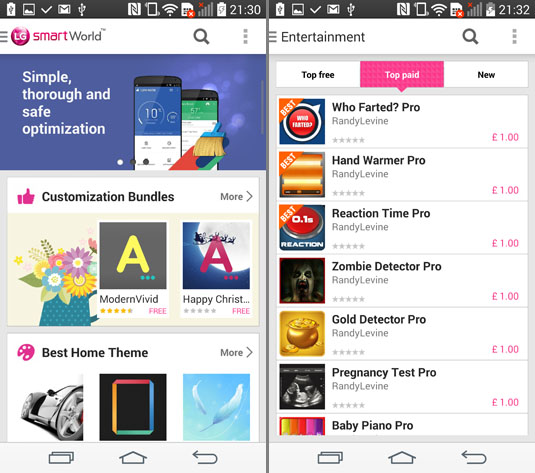 Smart choice? LG's SmartWorld top paid app is a bit of stinker
In fact, you do a pinch gesture, as on Samsung devices – which is fine if you've come from a Samsung, as sooner or later you'll try it. Also, the font is too large on the icon labels and the gallery names. Alas, there are only comedy, novelty alternatives to the stock system font. The G3 includes what it calls QSlide apps, which are widgets that overlay the screen (like Mac desk accessories or er, Vista widgets) but in practice these don't add much utility. They (obviously) obscure real apps, and don't bring much of their own.
You can also run some apps in split screen mode – which is more of a party trick than something you'd use. (I can envisage people Tweeting while watching TV, for example, but most people who do that have two screens already).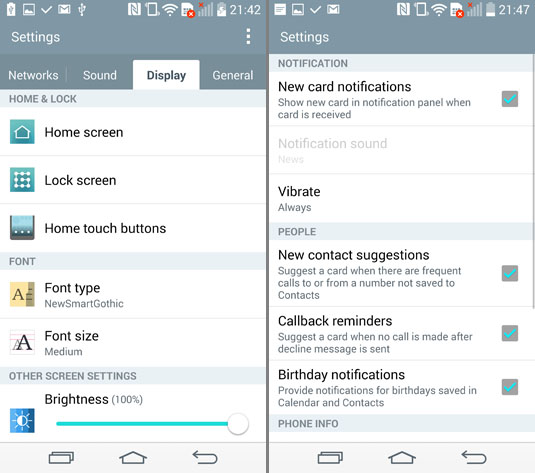 You can change fonts although the choice is limited and configure preferred notifications
And there's a quite useless bit of ambient "personal assistance" – called Smart Notice. This is a service that nags you that you haven't answered a call, or if there's a change in the weather. A bit redundant here in Blighty, that. I found it useful for reminding me whether or not to add a contact to my address book but that was about it – and even that quickly became irritating. I suspect many users would gladly swap the QWidgets for browser reflow, sadly not supported here.
It's not all bad news, though, as one unreserved success is the keyboard. The litmus test of an own-brand keyboard is how long it takes me to install Swiftkey. I found I still hadn't after a few days. You can adjust the height easily and the error correction (finding the right key for sloppy or drunk typing) is very good. Knock Codes work well too – you define a pattern with taps and then unlock the phone by tapping anywhere on the screen. I also appreciated the Guest Mode.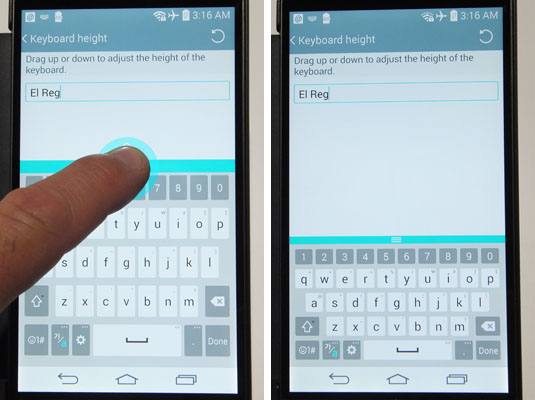 Stretchy keyboard, anyone?
For the record, call quality is OK but I'd say the earpiece could be a bit louder. However, the in this respect speakerphone is fine.
Despite the microSD card expansion, LG offers both a 16GB and 32GB model, the former gets 2GB of RAM, the latter 3GB and both rely on a Snapdragon 801 processor that's clocked at up to 2.5GHz. However, LG tells us the UK is only going to get the 16GB version.
A quick blast with AnTuTu on this 16GB model notched up a respectable score. When run again, with barely any juice left in the battery, the power saving kicked in and shaved about 20 per cent off the full charge figure. It's not the highest ranking but it holds its own and in the hand the performance isn't found wanting.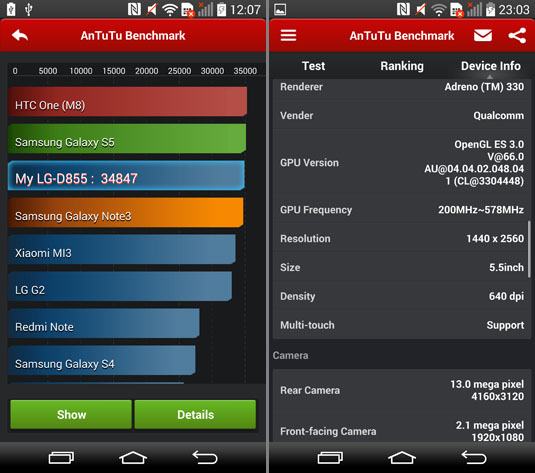 AnTuTu benchmark results and graphics details
Photo finish
On a high end flagship smartphone the camera shouldn't disappoint, and this one didn't. In test shots the G3 bested the HTC One M8 and even Nokia's 1020 in many situations, and performs better in low light than Samsung's Galaxy S5, turning out beautiful pictures without the customary noise.
And as you can see from the pictures, the camera performs well in demanding, high-contrast sunlit situations which cheaper phone cameras tend to struggle with, and usually over expose. For example, here's a before and after HDR shot of St Paul's – a photo where two thirds of the image is in gloomy shadow – that enhances the amount of detail. HDR has been around on flagship phones for a while now and delivers in challenging lighting.

Shooting with the High Dynamic Range (HDR) option (right) makes all the difference, bringing out detail in shaded areas that are lost in normal mode (left) – click for a full-resolution image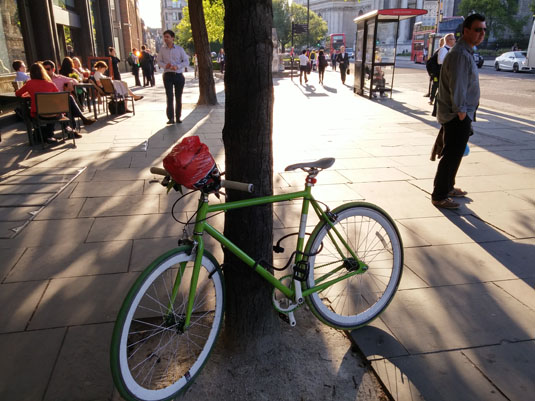 HDR again - here showing off the G3's slightly wider angle lens than most phone cams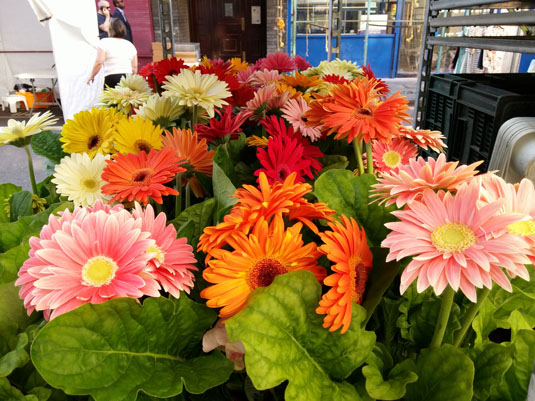 Even without HDR active, you still get a decent shot – click for a full-resolution image
The camera boasts a novel (for a smartphone) infra red laser rangefinder allowing very rapid autofocus – LG says it can focus in 0.276 seconds. The LG G3 also has optical image stablisation (OIS+) along both axes – and this produced a steady video image stream.
There's good visual feedback on the focus points, and a simplified camera UI. A little over-simplified in the case of video – you're shooting footage as soon as you activate the video button. LG boasts that it can shoot 4K video which it works a treat with the digital zoom, maintaining a respectable quality in all but extreme magnifications. Playback is on the phone isn't too smooth though and I'd be more inclined to forego 4K for better access to controls.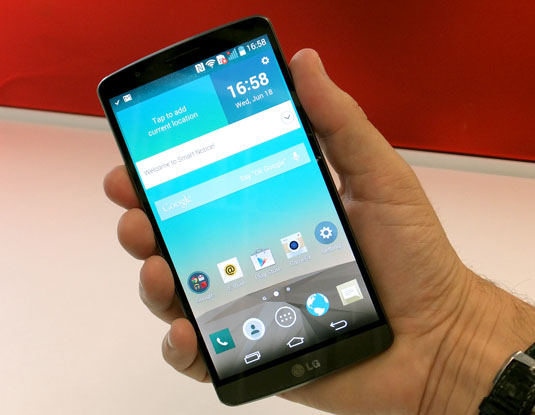 A big, HiDPI screen without the bulk – let the resolution wars begin
The Reg Verdict
The LG G3 has its share of contradictions, such as its quad HD screen and a laser focusing camera coupled with a so-so Android reskin and basic photo shooting controls. And then there's its appealing compactness, offset by those back buttons that are a bit Marmite. Yet there's some sensible thinking here too, as the storage expansion and removable battery are must-haves for many. All in all, LG arrives with one of the year's best phones – as long as you can get used to the controls. ®

LG drops G3 quad HD Android mobe with FRIGGIN' LASER camera
Android Kitkat handset running a 2.5GHz quad-core Snapdragon 801 chipset and featuring a 5.5inch, 538ppi, 1440x2560-pixel display; a 13Mp camera with laser focusing and 4K video capture.