This article is more than 1 year old
What's it like using the LG G smartwatch and Android Wear? Let us tell YOU
Smartwatch or dumb idea?
First look Wearable computing has been generating a lot of buzz ever since Pebble and others kickstarted the market last year and now the world's most popular smartphone OS builder has skin in the game and serious hardware partners.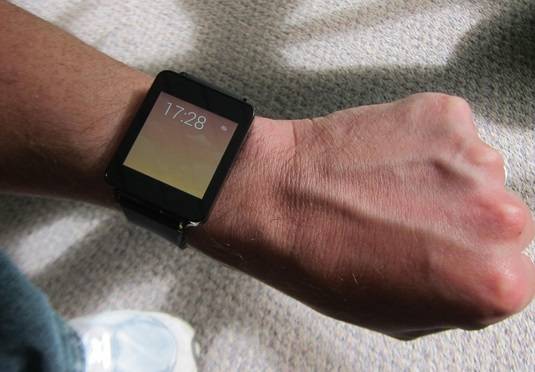 LG G Smartwatch running Android Wear
For months now the world + dog has been rumored to be bringing out a smartwatch, and at this week's Google I/O developer conference Mountain View launched Android Wear – the first build of its operating system designed for wearable computing. It also put smartwatches from LG and Samsung up for sale on the Play market.
Since then we've been putting the software and LG hardware through its paces to see if the Chocolate Factory and its partners have been able to pull it off. The results have been mixed to say the least.
Trying Wear on for style
Firstly, although you can order both the LG and Samsung smartwatches online at the moment you won't actually get code until July 7 at the earliest, when the final Android Wear app appears on the Play website. This is no bad thing, since trying to install the developer version is a lengthy process at the moment; one that reduced this reviewer to expletives that shocked even the salty coves of Vulture West.
However, once loaded, the software works very well indeed. Wear is based around Google Now-style notifications and it pops up the same cards of information as the personal assistant software holds on Android, iOS and Chrome.
In order to use Wear you'll need a smartphone running Android 4.3 or better and the latest Google Play Services 5.0 app, but Wear is fully manufacturer-agnostic. For this mini-review, we linked it to a Nexus 5 running Android 4.4 before pairing the software with the LG smartwatch via Bluetooth.
The default smartwatch screen setting has a clock in the top left corner, leaving plenty of room for notifications below. There are a variety of watch face styles, so just press and hold on the clock face and these will be presented as a horizontal scrolling menu.
The watch's start screen displays the Now-style cards and these can be scrolled through vertically. To delete a card swipe to the right, and to initiate action on it swipe to the left.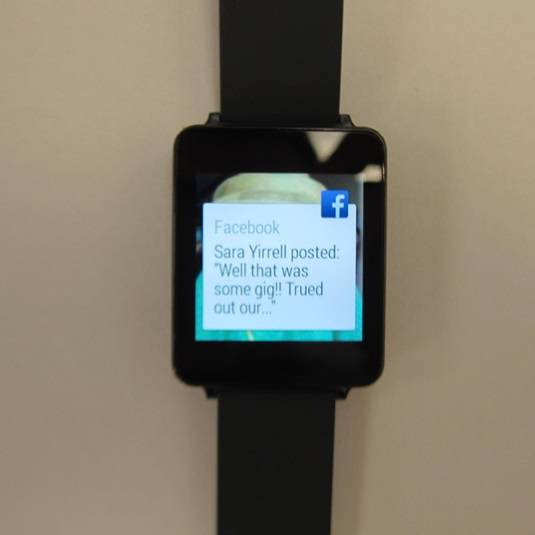 Notifications pop up as they come in and can be opened remotely on your phone
Voice control is another big part of Wear. The LG watch listens out constantly for the phrase "OK Google," and will then tell you to speak into the device. The range of the microphone is about 12 inches but for best results speak directly into the watch Dick Tracy-style.
In practice this works very well, for some things. Google's voice recognition on the smartwatch is just fine, so long as the gizmo is paired to the smartphone and can use its internet connection. It handled commands spoken in our noisy local bar quite well, but even in the quietest environments had problems with unusual names and replaces foul language with asterisks.
If you prefer more manual control there is also a scrollable menu for functions like leaving voice notes, setting reminders and accessing the settings screen. This also allows you to adjust the screen brightness and reset the device as needed, and switch off the vibrating notifications generated by events.
All in all, the Wear software runs fine on the device - much more so than you'd expect for first version code - and this bodes well for future upgrades. There were no crashes and once you've got used to the motions needed, it's easy enough to navigate and control functions.
Google gave us a grab bag of applications for Wear, and they were useful but relatively uninspiring. There were booking apps for Delta and American Airlines, a restaurant finder, applications for runners (the Wear code counts your footsteps automatically, anyway) and something called Duolingo that teaches a foreign word a day for budding linguists out there.
There will be more applications ready for the July 7 launch, we're told, and they will have their own section in the Play store. Hopefully developers can come up with some interesting ideas because there was, at this time, little in the app collection that could be described as "killer" for the watch itself.