Pics NASA has successfully test-flown its "flying saucer" – the Low-Density Supersonic Decelerator (LDSD) – after weather conditions permitted the trial on Saturday.
The LDSD is a concept lander design for future flights to Mars. The craft works by inflating a "Supersonic Inflatable Aerodynamic Decelerator" (SIAD), which NASA describes as a "large, doughnut-shaped first deceleration technology that deployed during the flight." The doughnut is actually a balloon-like "pressure vessel" that, by embiggening, increases friction to slow a payload while also cushioning it from atmospheric phenomena.
Lifted from the US Navy's Pacific Missile Range Facility, located on the Hawaiian island Kauai, by a massive 963,000m3 helium-filled balloon – large enough when fully inflated to "fit snugly into Pasadena's Rose Bowl" – the vehicle was released at 36,500m, and was then blasted to 55,000m and Mach 4 by a ATK Star 48B solid fuel thruster.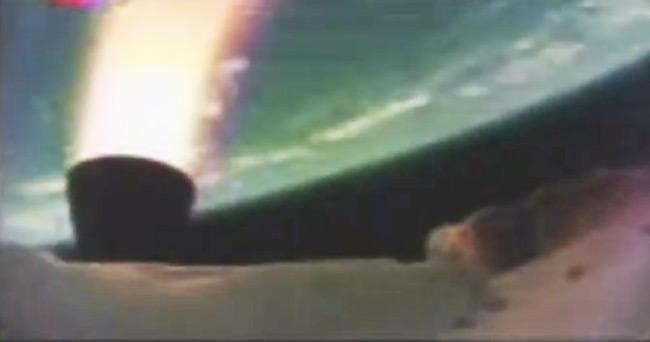 Fire in the sky: The LDSD's rocket motor in action. Pic: NASA/JPL-Caltech
The LDSD then successfully deployed its inflatable deceleration airbags (the "Supersonic Inflatable Aerodynamic Decelerator", or SIAD), slowing the vehicle to a modest Mach 2.5.
The test mostly went well, although the Supersonic Disk Sail Parachute didn't deploy properly.
Accordingly, NASA hailed the flight as a success.
LDSD project manager Mark Adler enthused: "We are thrilled about yesterday's test. The test vehicle worked beautifully, and we met all of our flight objectives. We have recovered all the vehicle hardware and data recorders and will be able to apply all of the lessons learned from this information to our future flights."
The point of all this ballocket tomfoolery was to try out kit for future Mars payload landings, at altitudes which most closely match the planet's thin atmosphere. NASA says: "In order to get larger payloads to Mars, and to pave the way for future human explorers, cutting-edge technologies like LDSD are critical. Among other applications, this new space technology will enable delivery of the supplies and materials needed for long-duration missions to the Red Planet."
The agency has two further test flights scheduled for 2015. It's "analyzing data on the parachute so that lessons learned can be applied" to the next flights. ®
Similar topics