This article is more than 1 year old
Ericsson resurrects not-spot swatter
Radio Dot: Skyscrapers could get mobile signal on 99th floor
Mobile phone hardware firm Ericsson has relaunched its Radio Dot indoor mobile base station, aimed at networks which want to provide indoor coverage for major corporate clients.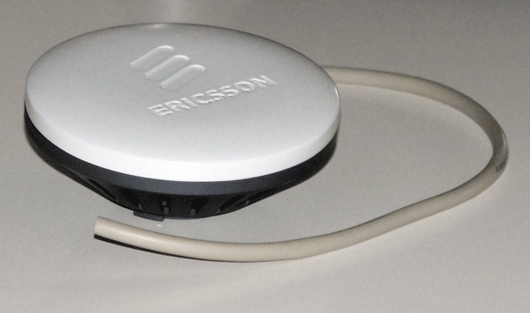 The radio dot uses CAT5/6/7 to link to the radio unit
Radio Dot is a system of small antennas which the company positions around a building which needs better coverage. Each remote antenna connects to a central indoor radio unit, and then on to the mobile phone network through a digital baseband unit. Think of it as more than an antenna but less than a femtocell.
Ericsson has special tools to do the radio planning, working out if one or multiple indoor radio units are necessary. The whole lot is wired together with CAT 5, 6 or 7 cabling which is cheap and easy to run and for which many buildings already have ducting.
The Register looked at the concept when it was first announced back in September but it has moved on since then. The design has been tweaked and the response from mobile operators has been positive. Networks have often talked about doing something about the indoor coverage problem – indeed, this was the rationale Vodafone used when it petitioned Ofcom for its 1800Mhz spectrum.
Those networks now running trials with Dot include: Telstra, MTN, Swisscom, Vodafone, Etisalat, SingTel and Softbank.
While it can be run over the existing LAN that may not necessarily be the chosen route. According to Ericsson, the Radio Dot System is operator controlled whereas existing LAN infrastructure is likely owned and controlled by the building manager or IT department.
The Radio Dots themselves are small and powered through the network cabling. The aim is to radically improve the data throughput of the MIMO (multiple-input and multiple-output) devices because more than half of all data traffic on mobile devices is consumed indoors. With the move to 4G, mobile operators want to see some of the traffic on Wi-Fi moved over to their cellular networks, but they can only do that with good coverage.
Ericsson claims that the Radio Dots are suitable for office building and sports stadia. However, as it's expected that the system will be dedicated to a single operator, it's much more suited for a corporate environment than a public one. There are options through RAN (Radio Access Network) sharing but when I asked about the practicalities of this I was told "it depends on the situation".
For the majority of businesses, the cost and disruption of putting in a separate indoor antenna network will outweigh the benefits of good cellular coverage. Yet for those companies which prioritise mobile, many of whom are Ericsson customers, it's an interesting option – particularly when building or refurbishing new offices.
Perhaps skyscrapers of the future will actually let you get a mobile phone signal. ®