This article is more than 1 year old
Panasonic's seven-inch Windows slab has tough exterior, confused mind
Can a hard-as-nails tablet do double duty on your desktop?
When Samsung announced that the Galaxy S5 had earned the IP67 rating, the next-to-highest moisture-and-dust-resistance score attainable on the intrusion protection rating scale, it made ruggedisation look easy.
After all, the only visible difference between the S5 and its predecessor is a flap over the USB slot and a thin membrane within the rear cover. If even a premium smartphone can reach IP67 with so few cosmetic changes, why on earth would anyone need to pay a premium for a product like Panasonic's FZ-M1 ruggedised seven-inch Windows tablet, which scores 65?
An answer begins with recognition that ruggedisation isn't just about an IP rating. The S5 isn't built to survive a drop. The FZ-M1's chunky plastic buffers mean you can just about slam it to the floor and expect its seven-inch, 1280x800 touch screen – and the Core i5-4302Y vPro humming along at 1.6GHz , 4GB of RAM, 128GB SSD and 3G radio beneath – will remain intact.
That spec makes the FZ-M1 a more-than decent PC. That all those parts fit into a package not much larger than an Amazon Kindle in a posh case makes it a very impressively small one.
Panasonic's schtick for the device suggests that putting a conventional tablet in the hands of someone who ventures beyond the office is asking for it - and your budget for mobile devices - to meet an unpleasant end. The company also argues that an island of iOS or Android isn't ideal when a proper PC can let you deploy the same app and architecture everywhere.
The company's having it both ways with the latter argument, inasmuch as it also offers Android tabs. It's worth calling it out because the FZ-M1 is an odd PC. The seven inch screen is the main culprit: invoking the on-screen keyboard occupies over half of the available pixels and often obscures the field into which one is asked to type! Windows 8 doesn't help either, especially once you hit the desktop and all the icons and controls become so small that using the touch screen becomes a bit of a lottery.
Clearly the device will be at its best for those who develop touch-driven apps using the lovely big buttons that work so well for Windows 8 in touch mode. Even those will need to be coded carefully, because the device's screen shrinks some interface elements to unpleasant sizes.
Panasonic says the device will do better as a PC when connected to an external monitor, and that having a tablet capable of doing so is a good idea. The dock that does the job properly is about $AUD450. On top of the $2,600 or so for the tablet itself that's a nasty premium to pay for mobility.
I shelled out about $20 for a USB-to-VGA dongle that does the job more cheaply, but not consistently well. Perhaps third-party docks like those from J5 might be a happy medium.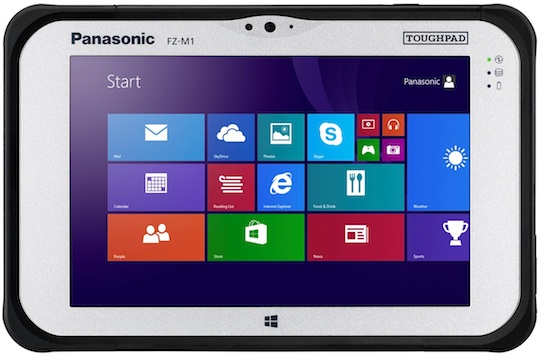 Is it a PC? Is it a tablet? The Panasonic FZ-M1 is both.
One accessory that does come with the device is a power brick. Disappointingly, the brick provided is a little larger than that shipped with my 2009 netbook. I used the Toughhpad for general computing and it went about four hours between charges, probably enough to survive intermittent use for someone like a courier, but perhaps not enough for more frequent use in, say, a warehouse. The availability of bulk battery chargers and hot swappable batteries will bridge that gap, but also tells you the "approx 8 hours" battery time is being very optimistic.
The tablet is clearly nicely rugged. My preferred method for testing hardened kit is to shove it in the back of a cycling jersey and go riding for an hour or three. The ride on which I took the Toughpad took place on a dewy morning with temperatures starting at around 10 Celsius and warming to maybe double that. Sydney roads mean there was plenty of sudden drops while my status as a MAMIL ( middle-aged-man-in-lyrca) meant lots of lovely bodily emanations to test its powers. The device then endured the post-ride cafe visit, playing coaster to a toasty hot chocolate for a time as an extra trial.
The device recorded video faithfully throughout the ride and emerged utterly unscathed. A sticker on its rear warning of potential heat problems seems overkill: at no time did I detect a warming presence on my spine. I wouldn't have minded if it had heated up a little!
I've also let the kids give it a few whacks, jolts and chances to tip off the dining table. The FZ-M1 has survived all unscathed.
Overall, the FZ-M1 is a marvellous machine. With the right apps and in appropriate situations it will serve a purpose.
For the rest of us? That many premium mobile phones now offer a notionally-more-rugged IP67 rating and cost a lot less than the FZ-M1 makes it hard to imagine the Panasonic device will find friends far beyond its core – but rather niche - audience. ®