NASA aborts third attempt at finally settling man-made CO2 debate
Two birds died trying. Will the third make it?
---
NASA's third attempt to bring some much-desired clarity to the debate over human-produced carbon dioxide in the atmosphere has been postponed today after two previous rocket liftoffs ended in disaster.
The space agency's last effort to measure the CO2 in Earth's atmosphere was the Glory satellite in 2011, which crashed into the sea after failing to separate from its booster rocket.
Two years before that, the Orbiting Carbon Observatory 1 had problems separating from its rocket as well, stopping the payload from making it into orbit.
The Orbiting Carbon Observatory 2 (OCO-2) satellite had just a 30 second opportunity to blast off so it could precisely time its orbit to join the A-Train – a constellation of five other international Earth-observing sats that fly closely together to take near simultaneous measurements of our world.
At the last minute, the space agency abandoned today's launch due to a failure in the launch pad water flow. NASA has not yet confirmed whether it will be trying again tomorrow.
If it does get off the ground, OCO-2 will use spectrum analysis to figure out where exactly the carbon dioxide in Earth's atmosphere is coming from – and, crucially, where it is absorbed from the atmosphere and stored in "sinks".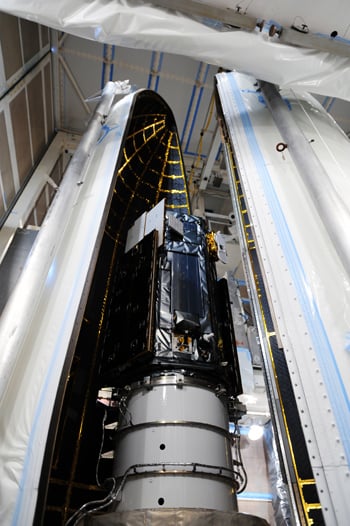 OCO-2 ahead of launch. Pic: NASA
It may not sound like a very tough job for a high-tech NASA satellite, but it's made a lot harder by the fact that OCO-2's field of view has to be just one square mile to dodge all clouds in its way. Even a tiny wisp of cloud would compromise the craft's measurements, which is why out of the 24 soundings it takes every second – adding up to around a million a day – only 100,000 will provide usable carbon dioxide data.
This still makes OCO-2 a damn sight better than the next best carbon dioxide satellite currently in orbit, which takes four full seconds to collect one reading and manages to get only 20,000 a day, with around 500 useful measurements.
Boffins already know how much carbon is in the atmosphere but figuring out where it comes from - and where it ends up when it leaves the air - is crucial to understanding how much human activity affects the planet's climate.
"Carbon dioxide generated by human activities amounts to only a few per cent of the total yearly atmospheric uptake or loss of carbon dioxide from plant life and geochemical processes on land and in the ocean," explained Gregg Marland, a professor in the Geology Department of Appalachian State University. "This may not seem like much, but humans have essentially tipped the balance."
Before the Industrial Revolution, there were around 280 molecules of CO2 in every million molecules in the atmosphere. By this year that concentration had risen to 400 parts per million.
"Our goal is to analyse the sources and sinks of this carbon dioxide and to find better ways to manage it," Marland said.
"If you visualise a column of air that stretches from Earth's surface to the top of the atmosphere, the Orbiting Carbon Observatory-2 will identify how much of that vertical column is carbon dioxide, with an understanding that most is emitted at the surface.
"Simply, it will act like a plane observing the smoke from forest fires down below, with the task of assessing where the fires are and how big they are. Compare that aerial capability with sending a lot of people into the forest looking for fires. The observatory will use its vantage point from space to capture a picture of where the sources and sinks of carbon dioxide are, rather than our cobbling data together from multiple sources with less frequency, reliability and detail." ®