This article is more than 1 year old
Los Alamos National Laboratory likes it, puts Scality's RING on it
Improved protection as firm updates its object storage software
Scality has upgrade its RING object storage software to v4.3.
RING software distributes object storage across multiple server nodes and uses erasure coding to ensure its integrity. Scality claims v4.3 "improves overall performance across a broad range of applications and workloads and enhances enterprise file operations by as much as 60 - 95 per cent."
RING 4.3 includes:
Performance gain of 30 per cent for mixed small and large files with intelligent caching and faster metadata operations.
More geo-redundancy option – Rep. to EC, EC to EC (object level) and GeoSync for large files (file level)
New data Security and Access control for file services – quota, lock management, Kerberos authentication for NFS and SOFS (Scality Scale-out filesystem).
New management portal – where user can simplify administration at PB scale by making many complex tasks point-and-click actions.
OpenStack integration – Swift and Cinder API.
Seagate Ethernet-accessed Kinetic disk drive official support.
Disk management – new procedure for disk replacement and provisioning.
New Linux distro and new packaging.
As a side note, Scality is now describing RING as software-defined storage, meaning no hardware lock-in.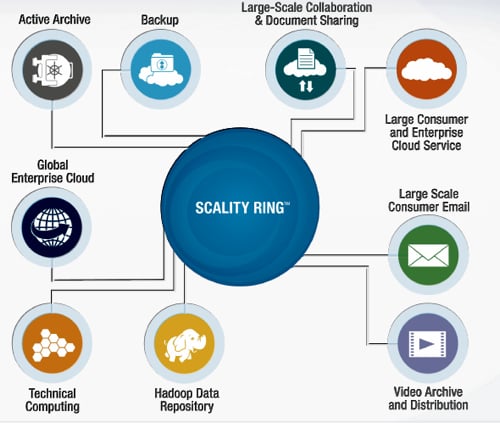 Scality's use cases
The company has recently increased its exec ranks, appointing:
Will Hall as VP of US Sales,
Leo Leung as VP of Corporate Marketing,
Tom Leyden as Senior Director of Product Marketing.
Paul Speciale as Senior Director of Product Management and
David Harvey as VP of Strategic Alliances and Channels.
In the US, the Los Alamos National Laboratory (:ANL) is using Scality RING storage to store data as it runs simulations to watch over the state of the US nuclear weapon stockpile. The simulations used to test the arsenal's physical condition and operational readiness, and some of the weapons are up to 40 years old.
The supercomputer simulations can run for months and, Scality says, this "requires storing tens of petabytes of data on hundreds of thousands of physical disks for each simulation." It could involve storimg up to 500PB of data. LANL is going to be using block, object, HDFS, and file interfaces to the data whose integrity will be safeguarded by erasure coding.
The exec ranks enlargement, marquee customers like LANL, greater than 500 per cent revenue growth from 2012 to 2013, and general business activity leads CEO Jerome Lecat to declare: "2014 is the most exciting year since we founded Scality. It is clear that we are crossing the chasm. ... Software-Defined Storage is becoming the new norm. While this transformation will still take several years, it is unstoppable."
He did not say Object Storage is becoming the new norm. That's because, we might think, object storage as a specifically different storage technology addressed by its own access protocols is and has morphed into a storage technology underlying existing access protocols.
We think Scality's view is that object storage is one way of storing double and triple petabyte levels and beyond of data on disk with better-than-RAID protection and the avoidance of filesystem limitations, yet with access using existing block, file and HDFS interfaces as well as object storage protocols.
That strategy seems to be working. RING 4.3 ships this month. ®