This article is more than 1 year old
New research: Flash is DEAD. Yet resistance isn't futile - it's key
Electro-boffin may have SAVED the storage WORLD
How electro-boffins SAVED STORAGE
All of this is connected with a research paper published by Crossbar co-founder and boffin, Wei Liu, and colleagues, entitled "Electrochemical dynamics of nanoscale metallic inclusions in dielectrics" and published in Nature Communications.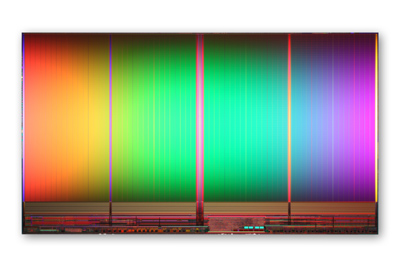 An IMFT 25nm Flash die. Will it be obsolete soon?
Wei is a proper boffin, being associate professor of electrical and computer engineering at the University of Michigan.
His research paper shows that, when a voltage is applied, metal atoms in the switching medium become charged ions and cluster together, forming metal nano-particles. These move to form a bridge, or a conducting filament, between the two electrodes. In a demonstration using silver and platinum, the bridge stayed in place when the power was switched off.
The University of Michigan announcement says: "The electric field can be used to change the shape and size of the filament, or break the filament altogether, which in turn regulates the resistance of the device, or how easy current can flow through it."
The research work "unmasks some of the magic behind memristors and "resistive random access memory," indicating that there is a logical connection to HP's memristor efforts.
Crossbar CEO George Minassian has a canned quote enthusing about the test dies.
"With 1TnR, companies will realise the dream of extremely dense, highly reliable, and high performance solid state storage. It's truly ground breaking and has the potential to redefine what's possible in enterprise storage and high-capacity non-volatile SoC memories."
The company identifies two attributes of its technology:
Cell physics –- RRAM chips do not suffer from NAND wear-out issues due to the technology's fundamental memory cell structure, based on metallic nano-filament in a non-conductive layer.
Economics – semiconductor manufacturing facilities for advanced NAND Flash require multi-billion dollar investments. Crossbar's RRAM can be stacked in 3D directly on top of standard CMOS wafers, making it cost effective to manufacture.
It says super-dense memory array architectures will be able to be constructed when its technology is commercialised. In the company's words: "CMOS compatibility enable logic and memory to be easily and cost-effectively integrated onto a single chip, at the latest technology node, on standard manufacturing processes."
There is also a 1T1R technology for embedded code applications.
Get a useful Crossbar white paper here (pdf).
Crossbar says it's currently finalising agreements with several leading global semiconductor companies and plans to announce its first licensing agreements shortly. ®