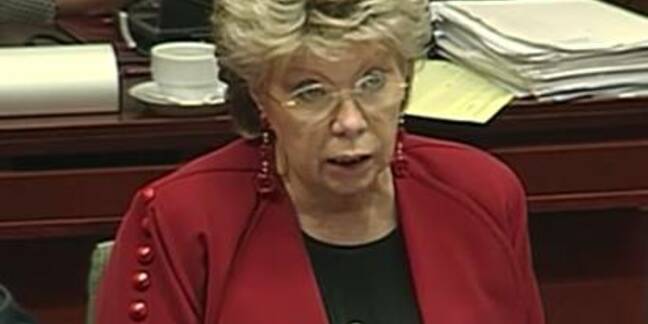 European justice commissioner Viviane Reding resigned from her Brussels' post today, after taking up her recently won seat in the European Parliament.
The Luxembourg Christian Social People's Party politico said in a short Facebook post that her MEP mandate had begun on the same day as the "drastic reduction of tariffs of 'roaming' in Europe, a battle that I launched in 2007! It's a beautiful day that begins, Europe at the service of its consumer protection."
Mobile phone charges across the 28-member-state bloc fell dramatically on Tuesday, while Europeans using their smartphones beyond the EU will face much bigger bills as local carriers respond to the expected drop in sales resulting from the ruling by upping prices elsewhere.
Reding served as the EC's justice chief for more than four years and has spent much of that time lobbying for data protection reform, including a controversial "right to be forgotten" pledge.
She previously headed up telecoms policy and held the title of information society commissioner, in Brussels, before being succeeded by "Steelie" Neelie Kroes under the "digital agenda" moniker.
The Commission said today that Johannes Hahn "will take responsibility for the portfolio of vice president Reding, responsible for justice, fundamental rights and citizenship" as a caretaker replacement.
Government officials in Luxembourg said they had nominated Martine Reicherts as a representative to complete Reding's mandate at the EC, which runs until the end of this year. ®
Sponsored: Ransomware has gone nuclear