We're pleased to report that the team behind the 2013 space hedgehog drama - which saw a knitted mascot dramatically go awol over Blighty - has finally got a cluster of student experiments in the air without mishap.
Last March, CASSiE (Cosmic Ambassador for Space Science and Engineering) accompanied 70 miniprojects packed into Kinder Surprise podules up to the stratosphere under a meteorological orb, as part of the MARSBalloon project.
The rollercoaster ride saw most of the payload ejected by a collision with a garden fence...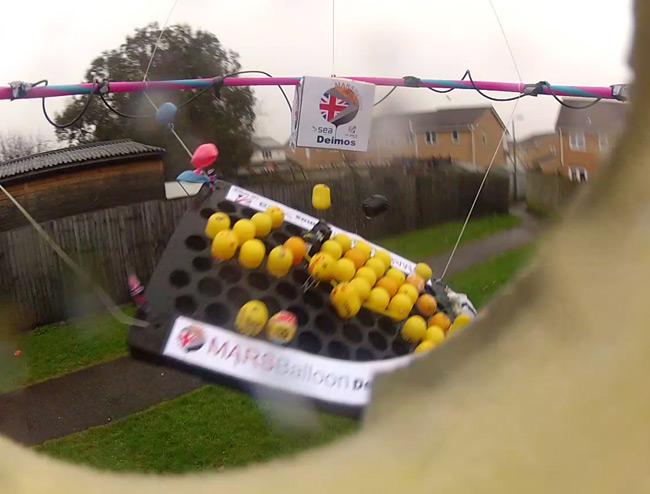 Crash bang wallop
...and the erinaceous adventurer apparently added to the posthumous Roll of Honour, which includes our own heroic Playmonaut, following a particularly chilly ride.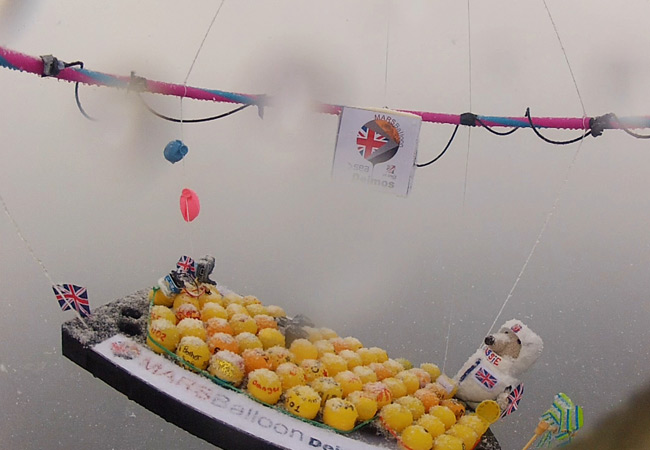 Incelement weather during the plucky hedgehog's flight in 2013.
Miraculously, CASSiE was recovered in September from a field in Nottinghamshire, although she didn't participate in the latest MARSBalloon mission - codenamed "Tharsis" - which took place on 19 June.
Regarding CASSiE's conspicuous absence, the project's Andrew Bacon told El Reg: "The official reason is that we wanted to maximise payload space for the school experiments but to be honest I couldn't face losing her again."
Once again, secondary school students were invited to submit experimental podules for the flight, to see how their contents would fare under conditions similar to those on the surface of Mars. In this case the selection included various types of seeds, popcorn (popped and unpopped), bubble wrap, a "sheep eye ball", marshmallow, camera film (measuring radioactivity), an Arduino microprocessor, water, ethanol, methanol, and jelly babies.
The flight launched from Frome in Somerset, hit around 30,000m and came down safely in Pulham, Dorchester for a swift recovery. The experiments were returned to their creators for analysis.
Tharsis prepares for launch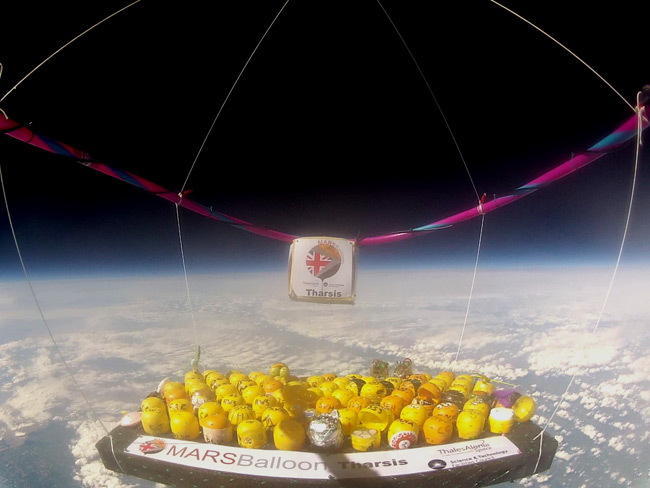 The Tharsis podule cluster at 30km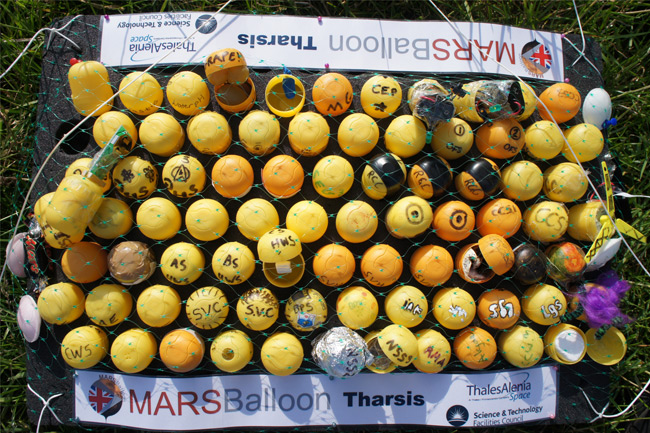 The recovered payload
The MARSBalloon flights are organised by Thales Alenia Space (TAS) UK with funding from the Science & Technology Facilities Council (STFC), and are designed to "encourage young people to take up careers in the UK space industry".
The next flight, "Elysium", is planned for October. UK secondary school teachers who might want their classes to get involved are directed here for details.
For those readers wondering what CASSiE's future involvement in the advancement of science might be, Andrew Bacon teased: "Now we know the primary and redundant tracking systems work, it may be time to risk manned (hedgehogged?) flights again." ®
Similar topics