Linux turns the crank on code for cars
Got a feel for your automobile
---
Linux's quest to become the default operating system for motor vehicles has taken a step closer to reality, with the Linux Foundation releasing downloads of code from its Automotive Grade Linux project.
The project, announced here, is described as being built on Tizen IVI, adding "key applications developed in HTML5 and JavaScript into a single open source reference platform".
The reference platform's main page notes that the key additions to Tizen are the user interface and middleware packages.
On this Flickr album, the foundation shows off shots of the interface, with generic demos of how the interface might display car status, maps, infotainment, climate controls and the rest.
"The current web runtime is Webkit but Tizen will migrate to Crosswalk within the next couple of months.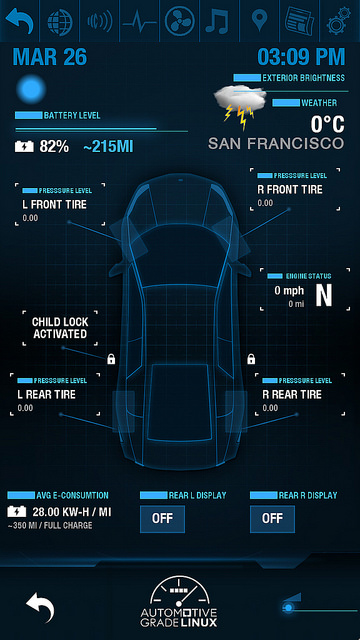 Crosswalk is a more modern web runtime environment based in Chrome and Blink. It is also better performing than Webkit", the documentation states.
Common components in the reference platform include CarIndicator (access to AMB properties); a application configuration and theming; call handling; text-to-speech and voice recognition; and a global settings UI.
The rest of the reference platform code covers the home screen, the dashboard, climate control, Google Maps, media and news components; Bluetooth connectivity; audio controls and SmartLink device integration. ®