This article is more than 1 year old
UK Xmas 2014: Go to shops a normal human, walk out a glasshole
Christmas kit preview: Surface Pro 3, (maybe) Google Glass and more
Pics Hey folks, it's Christmas. Well it is if you're in the PR world, as July is the time of year when the great and the good of the UK's press get invited to wade through the decorations and mince pies to see what goodies will be on offer to punters at Yuletide.
This week John Lewis was hauling out the baubles and Sony rustled up previews of forthcoming Playstation titles and hardware – more on those PS4 goodies in a separate article.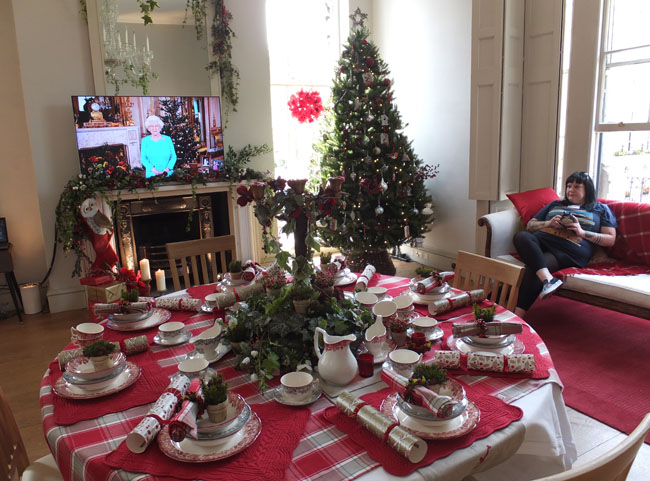 Unseasonal behaviour: Christmas in July – but look, there's ma'am on the 60-inch John Lewis telly, made by LG
John Lewis put on quite a show, with actors in various departments welcoming you to their humble home in, ahem, Fitzroy Square. Following a bit of razzmatazz, the obligatory smelly candles and the Queen on telly over the fireplace, there are usually some pleasant surprises with early viewings of the products due later in the year.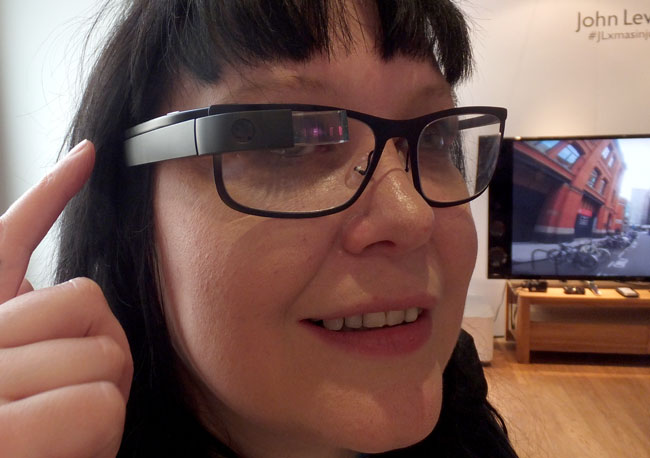 Lucy Orr takes a swipe at Google Glass
How about Google Glass for starters? Apparently, John Lewis hasn't inked a deal with this particular Chocolate Factory just yet, but if all goes according to plan, you could be shopping for Google Glass-ware alongside the crockery and tablecloths.
It's probably fair to say that all who entered the men's gifting section walked out a glasshole – you've just got to try it. While the specs themselves were fairly comfortable, the menu listings appeared as basic text with no adorning icons, just a list of instructions – take a picture, record a video, but as it wasn't online, get directions and send a message were redundant.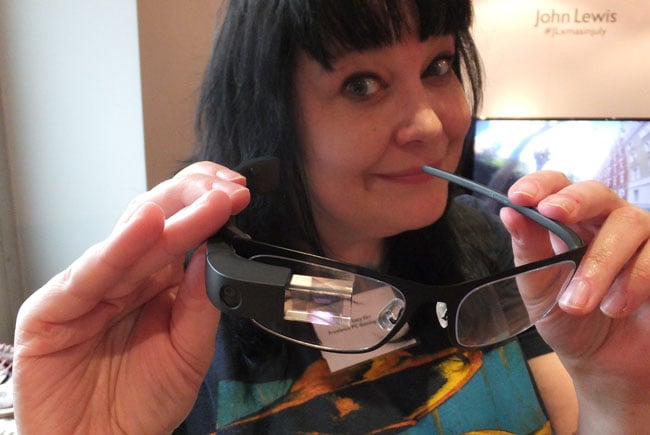 Lucy is available for modelling assignments and is payable in cider
Viewing the window of video playback superimposed over the normal field of vision did come across as a bit webcam and the audio was unimpressive, sounding more like headphone spill, but you may need to fiddle with the positioning of that Bone Conduction Transducer to get the best out of it… or maybe the earbud accessory is really the only usable option.
I'd have preferred the viewfinder over the left eye, but it's not obvious if this will be an option any time soon. Who knows, maybe by Christmas, Google's specs will have come out of beta and the Chocolate Factory will have woken up to the idea of the choosing between left and right.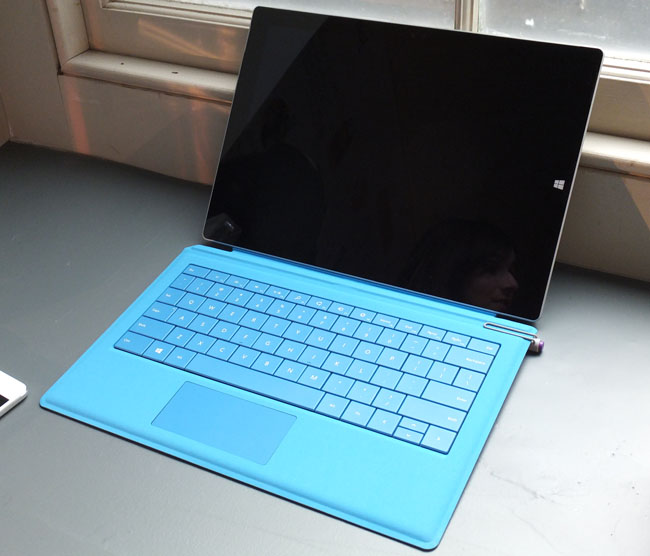 So, what is the battery life on the Surface Pro 3, again?
Out in the US this week – but not due in Blighty until August – is Microsoft's Surface Pro 3. This tablet was rather shyly propped up in the corner with its blue keyboard and the initial excitement was soon quashed with the news that the battery was flat.
Oh well, might as well pick up Redmond's 12-inch and have a fondle. Mmmh, heavier than expected and that keyboard doesn't help. Not sure about that tapered shape either – it's a bit industrial. Right, move along, nothing to see…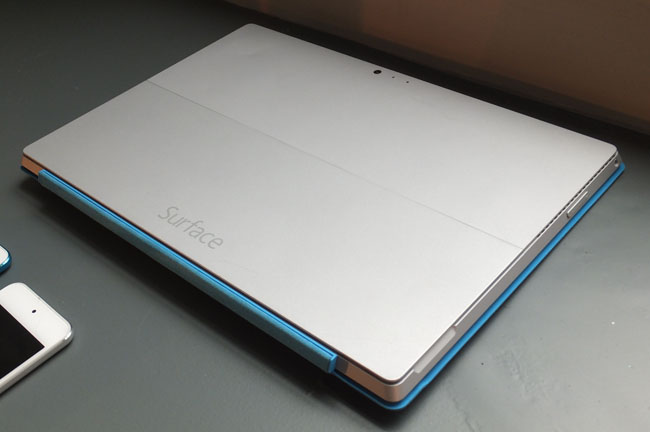 Industrial edge the Surface Pro 3 bundled with keyboard is not such a lightweight
Also on show was the Samsung Galaxy Tab 10.5, which did have some life in it and being on show the day before its official release, it felt a bit special… for a moment.
You can check it out yourself in the shops now, but first impressions – delightfully lightweight and slim with bright, vivid, 2560 x 1600-pixel, 287ppi display. Alas, no internet to try it out with, but navigating screens and apps was smooth and snappy.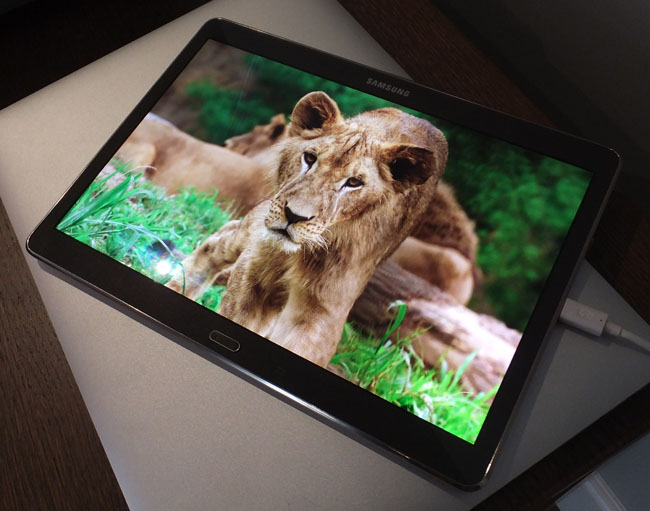 Samsung's Galaxy Tab 10.5 in the wild
Talking of screens, John Lewis' own-brand tellies had a refresh recently with a 60-inch model now available. As all the panels are made by LG – you could even see the logo on the back on the display model – you can be fairly certain you're buying into some decent tech here.
It's a bit of a dirty word here on El Reg, but there was an "audiophile" treat on show ahead of its release in September, the Naim Mu-so. It's the company's first wireless music system that takes the form of a hefty sound bar – peel off the speaker cover and you can see where the noise comes from.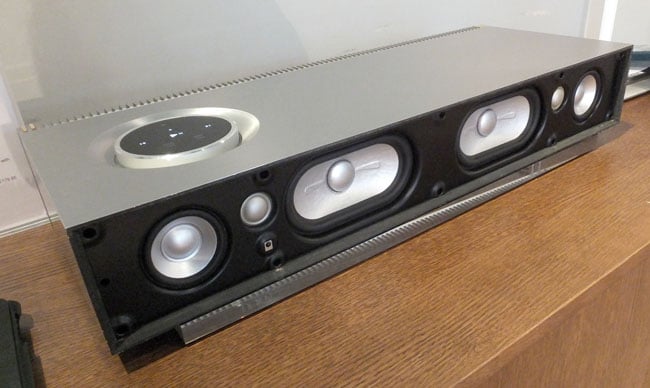 Naim's Mu-so, its first wireless sound system, makes an unexpected debut ahead of schedule
At least those drivers aren't the size of coins but all I could spot in the way of wired interfacing was USB and a mini-jack input, so unless there's a hidden HDMI port somewhere, this wireless sonic slab doesn't appear to be destined to live under the telly, perhaps under the Christmas tree instead. ®