Vulture 2 fills beak with Pi in the Sky
Spaceplane now boasting fruity minicomputer dedicated telemetry board
---
It's all go at the front end of our magnificent Vulture 2 , and following the recent taming of the spaceplane's cantankerous canards, we've now mounted a hot-off-the-press Raspberry Pi in the Sky - the dedicated telemetry board for the Raspberry Pi.
Fans of our Low Orbit Helium Assisted Navigator (LOHAN) project will know that Dave Akerman had already mastered the use of a Raspberry Picam, GPS unit and radio transmitter to beam images from aloft and grab video on High Altitude Ballooning (HAB) flights.
The lightweight Picam/Pi combo was, therefore, the obvious choice for the Vulture 2 camera capability. Back in February, we installed and tested that in anticipation of the arrival of Dave and fellow HAB specialist Anthony Stirk's Pi in the Sky, which consolidates all of the previously loose bits into one neat package.
And here it is, in a bare-bones form...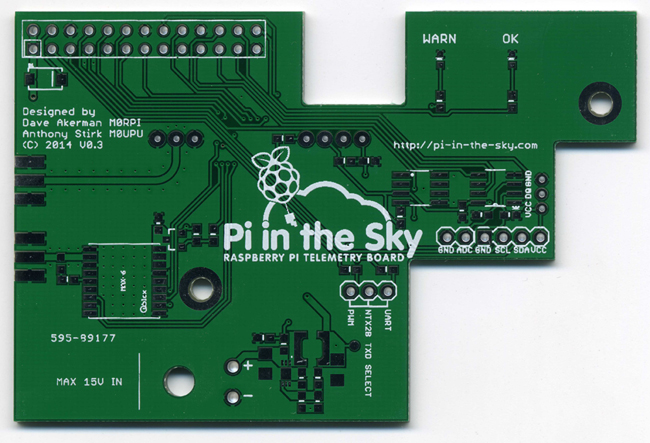 ...and fully populated with all the bits and pieces: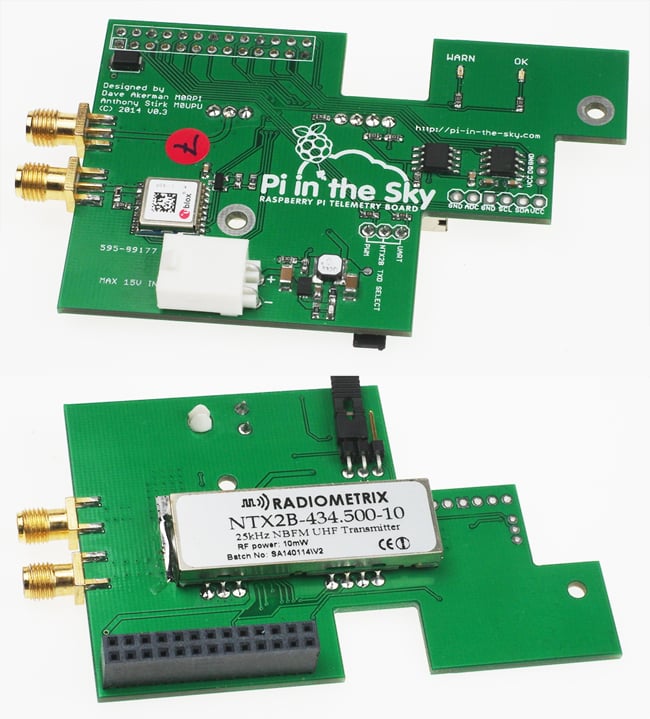 The Pi in the Sky combines a uBlox GPS and Radiometrix transmitter, the latter reporting position while delivering lo-res live imagery via SSDV (Slow Scan Digital Video).
The installation proved uneventful.* First up, we prepared to mount the Pi Model A in the aircraft with two lengths of M2.5 threaded rod (miniature firefighter on hand here lest another servo go up in smoke)...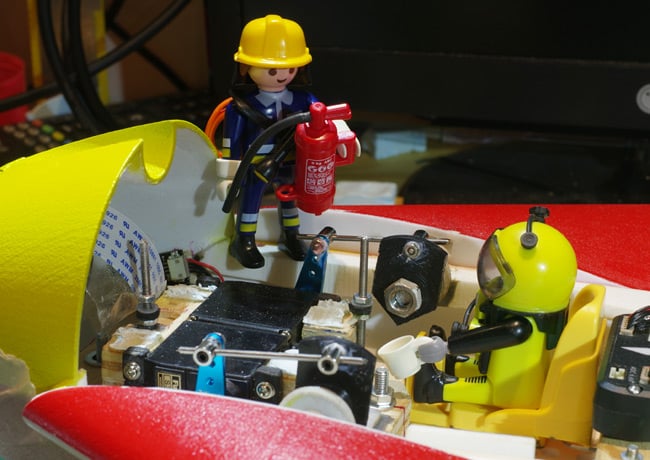 ...and whacked in the diminutive computer:
The power connector on the left plugs the Pi in the Sky into four Energizer Ultimate Lithium AAs (mounted further back in the fuselage, see here). The Pi gets its juice from the same source via the GPIO.
Note that we've removed the Pi's RCA video socket, because it was perilously close to the starboard canard servo horn, and generally getting on our nerves.
So without further ado, here's the complete installation, with the Picam ribbon cable and USB to TTL gizmo which connects the Pi to the Pixhawk autopilot both hooked up: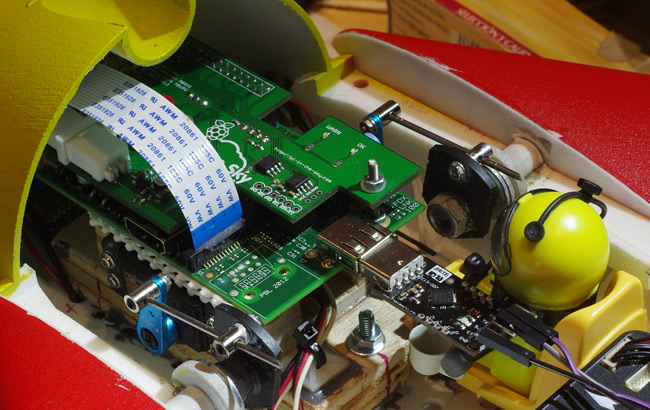 The Pi-Pixhawk interconnect will allow us to access the autopilot for control and programming purposes, once we can get the damn thing working. Rest assured, we have a team of top operatives poised to do just that, after which we'll be able to tackle the Vulture 2's custom mission parameters.
More on that in due course. The Pi in the Sky is available for pre-order right now, right here, for £125 including UK shipping. ®
Bootnote
*It's customary to say in these cases installation "couldn't be easier", but to our mind that would mean the thing unboxing and installing itself, while we enjoy a couple of G&Ts on the terrace.
---
More from the lovely LOHAN:
---