Today saw her Maj QE2 smash a bottle of Islay malt whisky over her floating namesake at Fife's Rosyth dockyard, as she hailed "a new phase" in Blighty's glorious naval history.
The carrier HMS Queen Elizabeth is a 280-metre-long behemoth which promises a maritime capability equal to that of its voracious appetite for taxpayers' money.
There's more on that and just how the ship will ensure the UK's place a global big-hitter here, but what caught our eye was the MoD vid revealing some pleasing seaborne statistics.
For example, were it necessary as part of some emergency public transport deployment, the Royal Navy could park no less than 470 double-decker buses on the vessel's flight deck.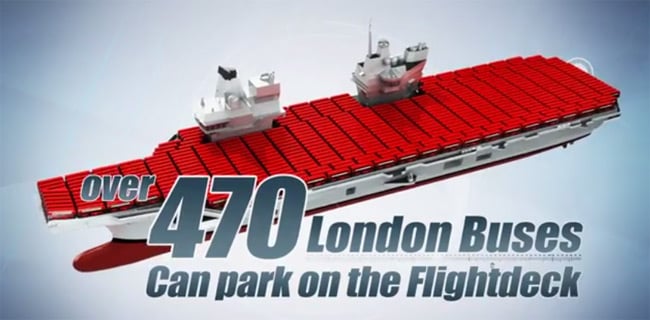 Furthermore, HMS Queen Elizabeth sports "1.5 million m2 of paint covering 370 acres", says the ministry in an unfortunate collision of imperial and metric.
While you marvel at more of the ship's awe-inspiring vital stats, why not work out just how much paint coverage that is in proper Reg-approved units? ®
Bootnote
Vulture Central's backroom gremlins can't help but wonder why the MoD want to park buses, rather than F-35 fighter jets, on their shiny new aircraft carrier. As regular Reg readers know, the defence industry got away with murder when the Queen Elizabeth class were ordered.