Vid
An Alabama UAV enthusiast has been told by the Federal Aviation Authority (FAA) to steer clear of airports after he sent a quadcopter up to 1,100m (3,609 feet) within five miles of Birmingham-Shuttlesworth International Airport (BHM).
Michael Mayhew posted an impressive video of the DJI Phantom 2 flight on YouTube, and shared the flight data online. According to Mayhew's explanation in the YouTube comments, an "airspace nerd" worked out from the GPS co-ordinates that "I was on the outskirts of Class B airspace for BHM and he reported me to the FAA and the Birmingham Airport Authority".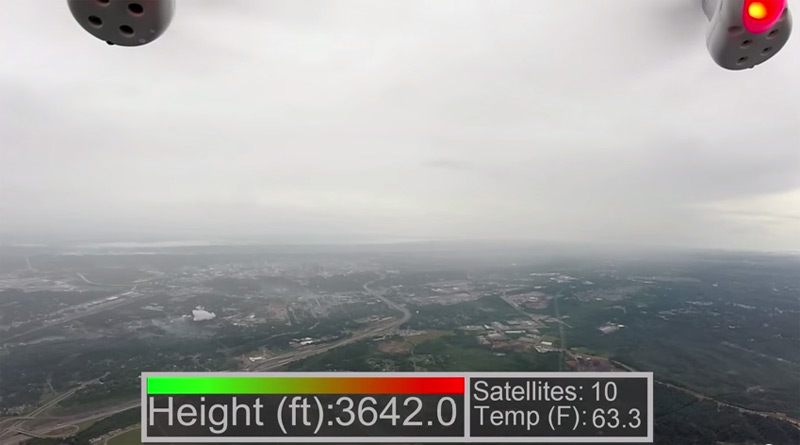 Naughty: The quadcopter tops 1,100m
Mayhew told CBS's Atlanta news tentacle: "The local FAA office contacted me via certified letter. I responded by phone and had a good conversation with the front-line manager."
The FAA said in a statement that it "spoke to the operator who agreed to fly the unmanned aircraft below 400 feet, which is the maximum altitude for model aircraft flights, according to FAA guidance".
The FAA's guidelines for amateur UAV operators don't specifically mention a maximum ceiling, although this ancient (PDF) Department of Transportation circular does set a 400ft limit for model aircraft.
Regarding airports, section 336 of the FAA Modernization and Reform Act of 2012 (pdf here) states: "When flown within 5 miles of an airport, the operator of the aircraft [should provide] the airport operator and the airport air traffic control tower ... with prior notice of the operation."
There's an overview of what you can and can't do with a UAV in US airspace here on DIY Drones.
Bootnote
What you probably can't do is fly through a fireworks display. Here's a vid also captured by a DJI Phantom 2 as it braved the action recently in West Palm Beach, Florida: