It's alive! Space hackers fire up zombie Sun probe's engines
Solar system's wandering relic ISEE-3 back in action
An international team of space geeks has successfully fired up the engines of long-defunct NASA satellite ISEE-3.
Now the gang says it'll try to kick the bird into an Earth orbit that will enable it to carry on performing the mission it was launched for 36 years ago.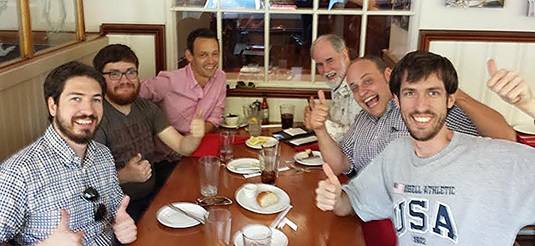 Team celebrates the rocket's red glare after a long nap
The International Sun/Earth Explorer 3 (ISEE-3) probe was the first spacecraft to successfully fly through the tail of a comet and was part of the Earth-built armada that flew by Halley's Comet in 1983. NASA retired the spacecraft in 1997 but now, thanks to $150,000 in crowdsourced cash and some inspired hacking, the probe is back online.
"We fired the A and B thrusters on ISEE-3 to perform a spin-up burn. Preliminary results confirm the burn and a change in rotation," the ISEE-3 Reboot Project reported on its blog.
"Spin rate was originally 19.16 rpm. It is now at 19.76 rpm. The original mission specifications call for 19.75 +/- 0.2 rpm- so we are exactly where we wanted to be. All in all, a very good day."
The team, operating from the Arecibo Observatory in Puerto Rico, used software-defined radio tech and NASA's deep space communications network to mimic the ISEE-3's ground-based control systems, which were switched off last century.
The team ordered the probe to fire 11 bursts of its hydrazine thrusters to get it up to speed. It's the first time the ISEE-3's engines have been fired since 1987 – before some of the reboot team were even born – and another burn is planned this week to get the spacecraft into a parking orbit where it can resume its original mission studying the Sun.
That mission is still ongoing, the team reports, thanks to the extraordinary lifespan of its instruments. The spacecraft's Vector Helium Magnetometer, built in 1970, has been restarted and is already sending back data for scientists on Earth.
There are 12 other instruments on ISEE-3, and the team will now check which of those are operational. With any luck NASA may get a few more years of data thanks to a team of enthusiasts and the members of the public who funded them. ®