This article is more than 1 year old
Docker, schmocker: HUAWEI is the new virtualisation challenger
Gartner mages' virtual symmetrical quadrilateral frowns at Citrix
Huawei has been added to Gartner's Magic Quadrant for x86 Server Virtualization Infrastructure.
The Chinese vendor is the only new entity mentioned in this year's document, and the analyst firm rates its "FusionSphere" hypervisor "An up-and-coming product in emerging markets".
The Chinese company can point to "hundreds of references in the BRIC countries (Brazil, Russia, India and China)" and says its "FusionCloud suite — FusionSphere, FusionCube and FusionAccess — offers a good mix of physical, virtual and private cloud hardware and software combinations, with strength in its integrated capabilities."
There are some wrinkles, not least that "at this point it is unclear how many of Huawei's FusionSphere customers are using Huawei's own hypervisor in production." There's also the small matter of dependence on Huawei hardware that means "Users of other x86 servers should validate the level of certification and local support." Spotty execution in different parts of the world is another problem Gartner notes.
Huawei's regulatory troubles in some markets also rate a mention, but Gartner thinks the company is focussed on emerging markets so may be able to dodge competitors. With KVM-based software and converged infrastructure boxen also under development, there's every chance the company's place in the least-lovely part of the quadrant will change.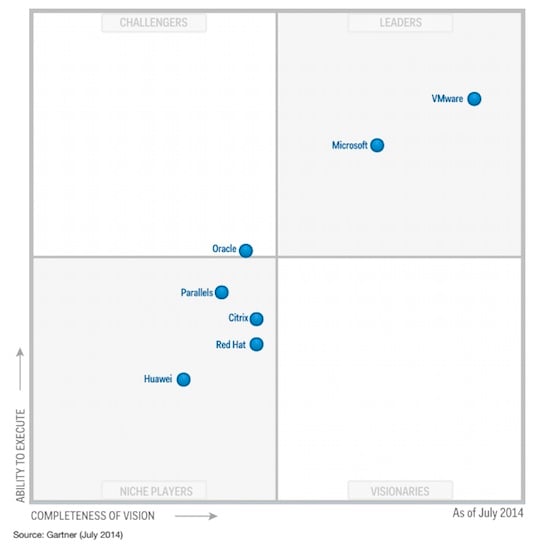 Gartner's Magic Quadrant for x86 Server Virtualization Infrastructure July 2014
The rest of the quadrant doesn't offer many surprises, although it does note a big change with its assessment that "Citrix is no longer investing strictly to keep up with market leaders VMware and Microsoft for traditional server virtualization." The firm is instead targeting cloud operators and desktop virtualisation, but the latter market will be a tough one to crack as Gartner says some users run XenApp or XenDesktop on rival vendors' hypervisors.
Gartner also worries about how Citrix will pull in enough cash to continue development of its offerings.
VMware is considered the market leader, but has struggled to excite cloud providers while the company's "Software-Defined Data Center (SDDC) push into infrastructure virtualization (storage and networking) is confronting established organizational structures and skills that are resistant to change — making growth harder."
Gartner also rates the company's push into end-user computing strategy as "extremely relevant to VMware, as these implementations create vSphere stickiness and create difficulty in switching hypervisors."
Leaps into new hypervisor-spaces aren't happening … yet, but Gartner warns it is being asked about it more and more, sees lots of multi-hypervisor implementations and thinks Vmware needs to improve its heterogeneous management story.
Microsoft wins praise for having "effectively closed most of the functionality gap with VMware in terms of the x86 server virtualization infrastructure." To get closer, Gartner says Redmond needs to improve replication and recovery (which it may indeed have already done as we noted on June 20th, just a few days before the Quadrant was published on July 2).
Overall, Gartner rates Hyper-V but says VMware's dominance means "... winning the larger and more mission-critical deployments will be an uphill battle and will require more proof points." That Microsoft isn't a virtualisation company and relies on price as one way to sell isn't helping matters.
Oracle wins kudos for a more-than-decent virtualisation product that is strongest when tuned to run Oracle applications. The company's colossal customer base gives it a nice leg-up into virtualisation sales.
Parallels has an opportunity to do well with containerisation, Gartner says, but its small enterprise customer base means it will be tough to get into hybrid cloud. Parallels doesn't mind sticking to the service provider market, but Gartner worries it may be a limiting niche.
As Parallels' inclusion shows, the Quadrant does include containerisation vendors. Yet containerisation enfant terrible Docker doesn't rate a mention, perhaps because it struggled to meet the criteria of having 100 organisations using its product by March 1st, 2014.
Red Hat is applauded for its integration with OpenStack, but Gartner doesn't think it is a mainstream play. Instead, the analyst firm says Red Hat "needs to successfully promote the idea of the right virtualization stack for the right applications" rather than taking on Microsoft and VMware.
And OpenStack? Gartner notes its rise, but also observers that its promise of heterogeneous hypervisor interoperability "is long from mature at this point." ®