The US Computer Emergency Response Team (CERT) has warned users about software download sites' practice of including unasked-for downloads, after one such program - AVG's Secure Search toolbar - was found to be insecure.
Known as "bloatware" or "foistware", unasked-for software is bundled into to the installation wrappers used by popular software download websites. The practice is tolerated by some sites because vendors pay to have their code included in downloads. Interfaces to such sites do their best to hide, or obscure, exactly what users are about to download.
The most severe threat from the installation of foistware, over and above the seemingly infinite loop of advertisements, is an increase in the number of attack surfaces available to hackers, CERTCC vulnerability analyst Will Dormann (@wdormann) said.
"The offers seem to be somewhat dynamic, but I've seen things like PassShow, RRSavings, and AtuZi. These sorts of programs hook into your browser, exposing a larger attack surface, and potentially making the system less secure," Dormann said.
"The default installation may include AVG Secure Search software. Despite the software claiming to provide 'an additional security layer while searching and surfing', its installation means more code on your system and therefore another thing that attackers might target."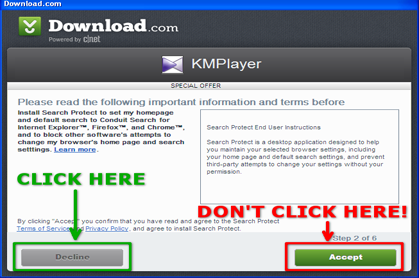 Will Dormann
AVG's unfortunately named 'Secure Search' toolbar, since patched, was badged as meeting a high level of security including Internet Explorers' (IE) Safe for Scripting it bypassed the browsers' hardening features including its protected mode sandbox.
It failed however to use the SiteLock template to restrict sites that could involve its ActiveX controls.
"By convincing a user to view a specially crafted HTML document (such as a web page, a HTML email message or attachment), an attacker may be able to download and execute arbitrary code with the privileges of the logged-on user," Dormann wrote in a post overnight.
"The download also provides a web browser toolbar, installs an ActiveX control that bypasses the Internet Explorer Protected Mode sandbox as well as the ActiveX Opt-in feature introduced with IE7, and it changes the browser's homepage."
Dormann deployed the popular KMplayer from Download.com opting to install the 'recommended' foistware in a virtual machine which was soon bogged down so much as to be useless. On launching IE, Dormann was bombarded with further download offers.
Software stuffed into caustic download wrappers was often more popular than direct foistware-free sources in part due to the sites' high search rankings that often outstripped official websites. Some searches for popular antivirus products using Bing turned up ads for what appeared to be scam sites above results for official websites. ®