Dubai to get huge climate-controlled domed city and giga-mall
Cosmetic surgery with direct access to shopping and a show
The ruler of Dubai has announced that the Gulf state is soon to build the world's first climate-controlled city, which will feature the largest area yet contained under a single transparent dome.
The project is referred to by its organisers as "Mall of the World", and is intended to produce an city which can be traversed entirely without exposing oneself to outdoor conditions.
According to Dubai Holding, the Sheikh's property arm, "Mall of the World" will be:
An integrated pedestrian city ... offering a wide range of leisure, retail, cultural, wellness, recreation and hospitality options under one roof.

Tourists will be able to enjoy a week-long stay without the need to leave the City or use a car ...

[The centrepiece will be] the largest indoor theme park in the world, which will be covered by a glass dome that will be open during the winter months. The project will also house the largest shopping mall in the world with an area of 8 million square feet ... Additional districts within the project will include a wellness dedicated zone catering to medical tourists, a cultural celebration district as well as a wide range of hospitality options ...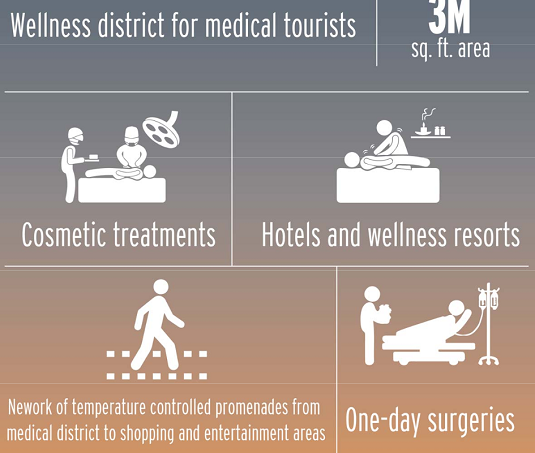 Got some new boobs and now need dresses to fit them? Vice versa? Mall of the World has you covered
"We are determined to achieve our vision," said Sheikh Mohammed, ruler of Dubai, in tinned quotes accompanying the announcement.
The idea of using domed and/or environmentally-controlled cities to deal with hostile climates (either on a future Earth, perhaps following an environmental catastrophe of some sort, or on other worlds) is a common science-fictional one - and now one becoming reality on a large scale, it would seem.
Some would say that Dubai's climate has always been hostile enough to justify climate control, at least in the summer. Others would argue that it has only become unsupportable in recent times due to global warming, or indeed that it is perfectly survivable anyway if you have a better reason to be in Dubai than shopping or medical tourism.
It would certainly seem that if global warming should resume once more, the residents of Mall of the World won't notice particularly unless or until temperatures rise beyond what the domed city's systems can handle. It would also seem that they will nonetheless be responsible for a lot of carbon emissions, as big climate-controlled facilities like this eat up a lot of energy - and the United Arab Emirates overwhelmingly get their energy from fossil fuels (click the energy tab here).
But according to the CEO of Dubai Holding: "It will be built using state-of-the-art technology to reduce energy consumption and carbon footprint, ensuring high levels of environmental sustainability and operational efficiency."
So that's all right then.
There's more on Mall of the World from Dubai Holding here. ®