Another startup has emerged on the hyperconverged system block: Austin-based NIMBOXX, which claims its customers can increase IO performance by up to 500 per cent.
All and any companies can enjoy a Google-style hyperscale data centre now, it claims.

NIMBOXX box
The box, which it dubs "the atomic unit of the software-defined data centre", runs the Mesh OS and its features include:
Any ratio of SSDs and HDDs,
Mesh-based scale out from one to hundreds of nodes,
Dynamic storage orchestration,
Self-balancing workload heuristics,
Shared-nothing management model,
Multi-tier caching,
Deduplication and thin-provisioning,
No-penalty RAID,
Workload-specific resource allocation,
Clustered storage system,
Snapshots and replication,
Data-at-rest encryption.
A NIMBOXX spokesperson said it uses a "software-defined" approach (El Reg storage desk notes that it runs in NIMBOXX hardware*) and claims that "unlike competitive solutions that run in a virtual machine on third-party hypervisors, NIMBOXX has built the entire stack, which delivers significant performance improvements and eliminates the need for costly hypervisors and accompanying management challenges."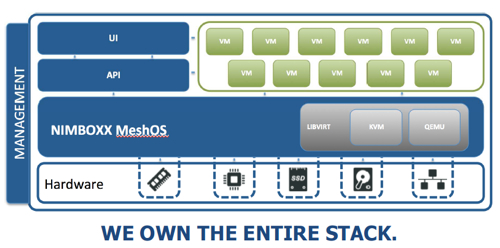 NIMBOXX schematic diagram
Mesh uses KVM and provides a Hadoop-style shared nothing management model, we're told. The startup claims it does not require a separate manager or controller servers on individual systems or virtual machines (VMs).
The firm claims that pilot customers have reported:
180,000 IOPS generated from a 1U system with factory settings,
Average of 10x improvement in application performance,
Seven minutes to go from initial configuration to virtual machines up and running,
Up to 60 per cent reduction in overall solution management ,
Up to 40 per cent reduction in overall data centre costs,
Third-party integrations for security and VDI.
NIMBOXX says it was founded in 2012 by David Cauthron, its CTO, and has $12m in funding from an A-round, with the dollars put in by SMC Holdings of Hong Kong.
Cauthron is not the usual Silicon Valley-type startup founder either. He was the CTO at Galactic Computing Corporation. This is based in Hong Kong and was founded in 1999 by former Cray Research scientists. It provides enterprise servers, HPC computing and management and virtualised storage systems. The major market for its products is China and its HPC system was rated 100 in the Top500 ranking.
The CEO is Rocky Bullock, ex-Quanta, the Taiwan-based manufacturer of notebook computers and more, who joined in October 2013. Chuck Maples is the VP of engineering and he was the R&D director for enterprise security products in HP's software organisation.
NIMBOXX claims its systems cost 30 per cent less than competitive systems – we'd imagine this means Nutanix and Simplivity.
Watch a video with Trent Fitz, chief marketing officer, introducing the company at a Gigaom Launchpad event to find out more"
NIMBOXX CMO Trent Fitz introduces the company at the 24:40 point
NIMBOX says its box isn't just a virtualisation platform; it is a software-defined* data centre in a box that makes elastic computing available to companies of any size, and it's generally available now.
Target customers are enterprises, application OEMs, and service providers. The competition has to include Dell (with a coming Nutanix-powered box), Maxta, Nutanix, Scale Computing, Simplivity and probably others.
You can contact NIMBOXX for a free trial or mail info@nimboxx.com or telephone 001 512 549 2634 to find out more. ®
Chris says
* As far as this Reg hack is concerned, software-defined storage runs on the commodity hardware of your choice. Any hardware lock-in makes the software-defined term meaningless. Fitz said: "We do ship an appliance, but it's commodity hardware from a well-known contract manufacturer. We have only built the software that runs on it. Not only can the hardware be swapped out, we [are] currently evaluating strategic relationships with other vendors."