EMC is buying startup TwinStrata and its cloud storage gateway technology, CloudArray. And the storage giant intends to provide public cloud access as an embedded data service for VMAX3 users.
EMC's Information Infrastructure division – its core storage biz – has also announced new products for its flash, high-end enterprise storage and scale-out NAS lines.
There are three new VMAX products plus system software additions, new Isilon and new XtremIO products. We'll deal with the main VMAX points here and report separately on Isilon and XtremIO.
The base pitch here is to add scale for cloud and big data and extend the hybrid cloud idea – linking cloud-style storage services on premises and in the public cloud. VMAX3 becomes a convergence point so that its one array can run an expanded set of workloads and can both access and protect data better.
VMAX3 replaces the existing 10K, 20K and 40K models with 100K, 200K and 400K products. EMC claims this will enable its customers to hyperconsolidate enterprise applications. The high-end 400K has up to 384 processing cores, is flash-optimised and delivers more than "six nines" of availability (ie, 99.9999 per cent uptime a year).
We understand it can support up to 70,000 virtual machines.
The announcement included a conspicuous absence of speeds and feeds, EMC marketing being a broad strokes, big picture organisation. We'll fill in this gap in a separate article.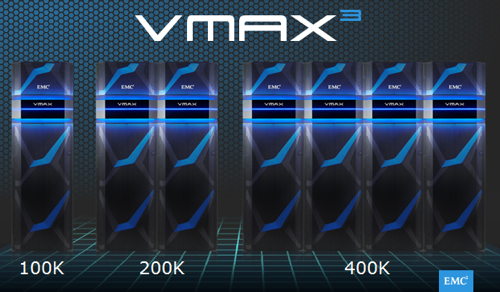 VMAX3
The other main launch bullet points are:
A 3X performance increase and 50 per cent TCO reduction compared to current VMAX. EMC now calls it an enterprise data services platform, claiming it "enables customers to regain control of where best to run specific workloads, within the data centre or in the public cloud," with storage delivered "as a service".
The inclusion of HYPERMAX OS, a converged storage hypervisor and operating system which embeds real-time and non-disruptive storage services – such as cloud access, data mobility and data protection – directly on the array. In theory, El Reg storage desk believes, any EMC software storage product could now run on VMAX. Think VPLEX for example.
A Dynamic Virtual Matrix architecture interconnecting the storage engines and enabling the dynamic allocation of storage engine processing power (cores) to improve performance and ensure predictable service levels at scale.

EMC ProtectPoint enables up to 10X faster backups with direct backup to Data Domain arrays, EMC saying it "eliminates need for traditional backup infrastructure," such as media servers and backup software.
An Advanced FAST Suite will offer single-click provisioning of VMAX resources.
TwinStrata buy
The acquisition price has not been revealed. Natick, Massachusetts-based TwinStrata was founded in 2007 and total funding is $19.4mn. A 5X multiple for the acquisition suggests a buy price of around $100m. The only known VC is Avalon Ventures.
CloudArray is a caching appliance and all the data put on it, whether primary, file, offsite backup or archive, is automatically replicated or moved to the cloud according to policies. The appliance supports both public and on-premises storage, including Amazon S3 and many other cloud service providers. The public cloud list is sure to be expanded.
CEO and co-founder Nicos Vekiarides said in a letter: "We are looking to integrate CloudArray into the new VMAX3 enterprise data service platform to allow you to automatically tier workloads even more seamlessly for off-premise storage capacity expansion, data protection and disaster recovery."
In effect, VMAX now gets a heterogeneous cloud storage backend and the public cloud will become another tier of VMAX storage. VMAX3 can also run EMC software-defined storage products to provide data protection and storage infrastructure services directly on the array.
We were expecting VMware VVOL support information, but nothing has been said about it yet.
VMAX3 and the HYPERMAX OS are expected to be available in the third 2014 quarter with more functionality to follow. Embedded file and ProtectPoint will be available in the fourth quarter and entail extra licence fees. ®