This article is more than 1 year old
Catalogic swaps CEO for buyout veteran
Syncsort subsidiary's in for interesting times
Syncsort data protection spin-off Catalogic Software has changed its CEO less than 10 months after appointing Flavio Santoni as its first CEO. What lies behind this?
Syncsort spun-off its data protection business in October, leaving behind a data integration business focussed on Hadoop and big data, and saying that was now its core business. Overall Syncsort CEO Flavio Santoni became CEO of the stand-alone data protection business, which calls itself Catalogic Software.
Timeline
July 2013 - Syncsort announces data protection business to be spun-off, leaving data integration business behind
July 2013 - Lonne Jaffe joins Syncsort from CA to be CEO of the data integration business. Ex-Syncsort CEO Flavio Santoni runs data protection business
October 2013 - Syncsort sells data protection business in management buyout funded by Bedford Venture Partners and long-time Syncsort investor Windcrest Partners. Flavio Santoni, ex-Syncsort CEO, is CEO of the new business, now called Catalogic software
April 2014 - Catalogic's w-w sales VP Mike Gruen leaves to join Actifio. Replaced by Pam Nicastro, ex-NetApp
July 2014 - Ed Walsh replaces Santoni as CEO, and Steve Kenniston becomes VP sales and marketing, effectively replacing CMO John McArthur, who was, we understand, effectively a consultant
Catalogic Software, headquartered in New Jersey, asserts that all uses of operational data should come from snapshots. It has three product technologies to sell:
ECX lists files, virtual machines and objects in a catalogue
DPX provides backup, recovery, including bare metal recovery, and disaster recovery for physical, virtual and cloud server applications using NetApp storage and including copy data management. It uses the ECX catalogue
NSB uses DPX and is built on NetApp FAS storage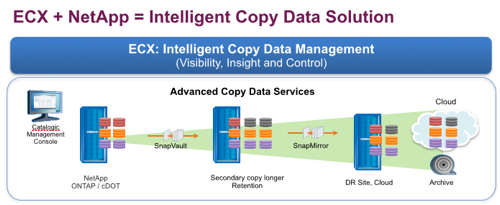 ECX plus NetApp equals an intelligent copy data system. Catalogic says: "The combination of ECX and NetApp's ONTAP provide a solution where "all operation recoveries or DR [is] via mountable snapshot recovery [with] instant recoveries of single files, volumes or full systems."
DPX is for data protection outside NetApp environments and DPX backs up to a mountable NetApp target. Backups are incremental forever and all recoveries are from instant, mountable recoveries.
There is a simple export to tape function from the FAS store.
Our understanding is that there has been tension inside Catalogic about how to develop the company. The investors decided that Santoni had to be replaced by a new CEO, Ed Walsh, with a new marketing head, Steve Kenniston, coming in too.
Pretty dramatic stuff, with the founding CEO leaving after less than a year and becoming relegated to the position of board advisor.
Walsh comes from analysis and research outfit ESG, where he spent 11 months, after a stint as veep and business line exec for IBM storage, having moved to IBM from being CEO at IBM-acquired Storwize. Before that he was CEO of Oracle-acquired Virtual Iron for two years. Walsh was GM and VP of the EMC/Avamar business and CEO of Avamar before that.
Put plainly, Walsh has run three companies that got acquired. Investors must be hoping for a repeat performance.
The rest of the market
There are now three suppliers interested in copy data management and copy reduction: Actifio, Delphix and Catalogic Software. Actifio started out in copy reduction and is now moving onto services based on it, such as backup and recovery.
Delphix started out with database virtualisation and copy reduction. Regional sales manager EAST, Bob Doyle, said it "provides an Agile Data Platform that quickly delivers virtualised data to the right teams at the right time" for application projects.
He characterises Actifio as "a backup-focused hardware vendor, with limited, incomplete functionality for application projects. Actifio hardware and storage plugs into FC SANs to gather and store a "gold copy" of data, with limited "out of band" functionality to gather other data" and having limited RDBMS support.
Catalogic Software can now be expected to drive its copy data management functionality more enthusiastically. We wonder about the possibility of EMC's ViPR storage management software providing a future data copy service. We also wonder about Catalogic Software getting acquired in a year or two. ®