This article is more than 1 year old
HGST's tiny whopper: Just 2.5 inches, but we've packed in 1.8TB
Stands tall
HGST has gone and increased its 1.2TB Ultrastar drive's capacity to 1.8TB, making it the highest capacity 2.5-inch drive available.
The Ultrastar C10K1800 spins at 10,520rpm and has a 12Gbit/s SAS interface (the C10K1200 model had a slower 6Gbit/s one). HGST says the new drive writes random data 2.5 times quicker than the old one and has 23 per cent faster sequential performance. The typical sustained transfer rate tops out at 247MB/sec.
It's an enterprise drive, designed for 24 x 7 workloads, and uses a disk-based media cache architecture, meaning a large non-volatile cache on the media. It isn't NAND-based, apparently.
There are 300GB, 450GB, 600GB, 600GB, 1.2TB and 1.8TB models with the largest capacity using 4 x 450GB platters – a 620Gbit/in2 areal density. The prior model used 4 x 300GB platters. It was introduced in January 2013 and this new drive represents quite a capacity jump – 50 per cent in areal density terms.
There are advanced format (4KN and 512e) and 512n models available, and the drive has a broad range of encryption options:
Trusted Computing Group (TCG) enterprise SSC-compliant Self-Encrypting Drives (SED)
TCG with FIPS (Federal Information Processing Standard) 140-2 certification
Instant Secure Erase (ISE) models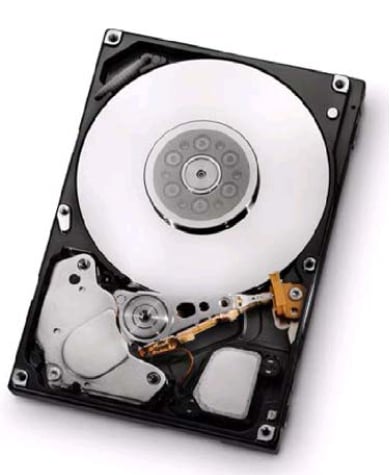 HGST's C10K1800
Seagate has a 1.2TB Savvio spinning at 10K. Western Digital has a WD XE 900GB drive in this general class, spinning at 10K. Toshiba has its AL13SE spinning at 10,500 and with a 900GB capacity maximum. HGST rules the enterprise 2.5-inch 10,000 rpm drive high capacity space free and clear.
If HGST applies a similar 50 per cent capacity jump to its Ultrastar C15K600, with its 600GB spinning at 15,000rpm, then we would see a 900GB model. Will there be a market for that with the onrush of flash drives into the high performance storage array data access product area? Possibly not.
Pick up a C10K1800 datasheet here (PDF) and OEM specifications here (PDF again). ®