This article is more than 1 year old
IBM's $3bn bet on next-gen computers: Carbon nanotubes, neuro chips
Big Blue exec tells El Reg what to keep an eye on
IBM boffins have been given a tidy $3bn cash pile to solve a problem that lurks not too far in our future.
That problem is the imminent breakdown in conventional chip operation and chip materials as we shrink transistor gates from today's 14nm process size to 10nm and 7nm.
At around 7nm, which most industry observers expect we will hit in the early 2020s, things start to get really unpleasant. More and more jostling electrons jump in and out of gates against processor designers' wishes, leading to a frustrating problem known as gate current leakage.
Beyond 7nm, the laws of physics start to fight attempts to wring certainty from matter and, put it this way, there's a reason why semiconductor engineers like beer so much.
Meanwhile, the whole tech industry is built around the promise that chips regularly get faster and more capable. Unless someone solves the post-7nm challenge, the IT wagon could jump the tracks.
Which is why IBM announced on Wednesday that it has decided to tackle the problem by investing $3bn over the next five years in a spread of technologies designed to improve the capabilities of typical chips, better link them to other chips, and develop new computer logic architectures that depart from the standard Von Neumann design pattern.
"Basically, silicon technology as we see it is coming to a point where a lot of new innovation is needed," IBM Research's director of Physical Sciences Supratik Guha told The Register.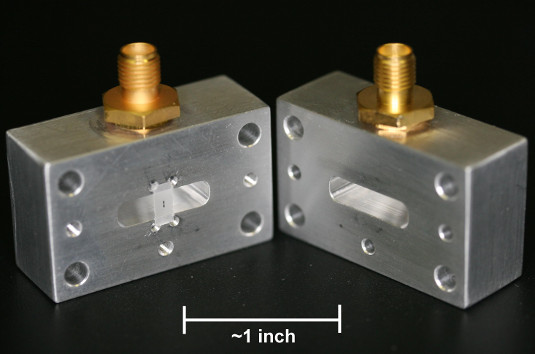 Along with well understood technologies like silicon photonics, IBM is also backing longer term 'basic science' research into areas like quantum computing (two qubits pictured)
These investment areas include: quantum computing, neurosynaptic computing, silicon photonics, carbon nanotubes, gallium arsenide, low-power transistors and graphene.
It's an ambitious list of some well understood technologies and some less understood ones.
Silicon photonics, for example, is an area where companies like Intel and Corning are doing work to make silicon photonic cables, and IBM rivals like HP are preparing their own endeavors.
"Nearer term we are looking at integrating components of conventional Von Neumann systems like connecting processors and memory in a more integrated way," Guha said. "Silicon photonics is going to play a huge role over there [for] efficient and cheap optical interconnects. You might see implementations in a few years timeframe."
Quantum computing, on the other hand, "is still very much basic science," Guha admitted.
Between quantum computing and silicon photonics are the many medium-term technologies that IBM expects to develop over the next few years.
Carbon nanotubes replacing CMOS
The company sees carbon nanotubes (CNT) as a good candidate for the replacement of silicon as they are "three to ten times better than silicon tech on a [process] node-to-node basis". Production of CNT at mass scale is ramping up as well, he said: "You have to make carbon nanotubes with purity levels that are six nines. Today we are at four nines and over a year ago [we were] at 98.5 percent."
Once IBM tackles some of the issues with precisely placing the nanotubes, Guha is "optimistic about carbon nanotubes as replacing CMOS" silicon.
Alongside CNT, IBM is also working on III-V MOSFETs, which are transistors designed to better cope with the aforementioned leakage problems.
Graphene, the wunderkid one-dimensional hexagonal lattice of carbon atoms with remarkable properties, "is another story" when it comes to mass production, Guha admitted.
"I'm not so pessimistic about not being able to manufacture graphene in large amounts. We've had a government-funded program at IBM that shows very good results. The challenge is I don't see graphene replacing silicon and CMOS – graphene can find its niche in areas such as wireless communications."
The company is also intrigued by the possibilities of neuromorphic chips: these are processors built around architectures unlike those in today's CPUs. They try to implement various machine learning or neural networks in logic, giving a huge speed boost to algorithm that go into many semi-intelligent AI systems, like image recognition or navigation tech.
"It's difficult to say exactly what we've invested in these areas previously, but no other corporate research lab invests more in fundamental basic science than IBM, with over $6B a year spent in R&D," an IBM spokesperson told El Reg by email when we asked what previous R&D investment this injection comes on top of.
"$3bn is a significant research investment for any company to make and we feel is appropriate and certainly required to fuel the type of projects we are taking on. If you look closely at other companies' investments, much of their work is just on the 'D' side of things. We have long been a leader in semiconductor research and will continue to innovate in this field."
While IBM is widely reported to be trying to sell its chip manufacturing division, it appears to see future profits in designing and selling standard and sci-fi-grade chips in equal measure. ®