This article is more than 1 year old
Amazon Zocalo rocks Box, socks DropBox, clocks Google Docs
New cheap file sync'n'share for big biz
Amazon has revealed Zocalo, its sync-and-share and managed storage for enterprise. This spells bad news for Box and Dropbox, and perhaps even Google Docs.
Zocalo, we're told, features:
A secure tool to share documents, spreadsheets, presentations, webpages, images, PDFs, and text files.
Encryption of data in flight and at rest.
Consistent experience across PCs, laptops, iPad, Kindle Fire, and Android tablets.
Synchronization of files across devices to ensure information is available anywhere, anytime.
Feedback facilities for collaboration: users can request and manage feedback from others, and contributors can highlight any word, sentence, paragraph, or area of a document or file and leave detailed comments.
Email alerts for contributors and document owners about review activities and approaching deadlines.
Integration with existing corporate directories.
Flexible sharing rules, audit logs, and data location control for admins.
Fully managed service with central file hub.
Available with Amazon Workspaces, and Amazon Web Services' virtual desktops in the cloud.
Amazon's Noah Eisner, Zocalo general manager at Amazon Web Services, said: "AWS was increasingly being asked to provide an enterprise storage and sharing tool that was easy to use, allowed users to quickly collaborate with others, and met the strict security needs of their organisations. That's what Amazon Zocalo was built to do."
The impact of this is likely to be massive, and could drastically affect the growth prospects and valuations of online storage upstarts Dropbox and Box, and others like Barracuda.
Cloud-based file sync-and-share is becoming mainstream. Big name suppliers, such as EMC with Syncplicity – just named a leader in Gartner's magic quadrant for enterprise sync-n-share – plus Microsoft, Google and now Amazon, are going to dominate the arena, The Reg reckons.
This will narrow the prospects for startups – particularly Box's. Following its delayed IPO and latest funding round, the company looks exposed. Has Aaron Levie's execs and VC backers anticipated Amazon's move?
Ironically, Dropbox was sitting upon the Amazon S3 storage cloud for several years, and it looks as though the Bezos behemoth has taken a shine to what one of its customers has been doing – a rather Microsoft-ish approach from the olden days.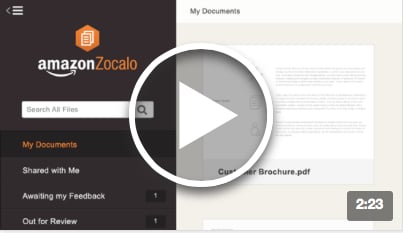 Zocalo in-action video ... click to run
Zocalo is priced at $5/user/month and offers 200GB of storage space per user. Amazon WorkSpaces customers get Zocalo free for up to 50GB of storage, and $2/user/month for up to 200GB of storage. This compares to $5 per month for Box (100GB storage, 2GB max file size) and $9.99 per month for Dropbox (100GB).
There is a 30-day free Zocalo trial providing 200GB/user for up to 50 users. We can fully expect Amazon to respond swiftly to any price lowering moves by its competitors, further delaying any hopes of profitability for Box.
Speaking of which, Box CEO Levie told us: "It's an incredibly exciting time for the cloud content category, and Amazon's entry underscores the scale of the market opportunity. Amazon Zocalo looks like a useful service for file storage and sharing.
"At Box, we're laser focused on offering the security, scalability, collaboration and cross-platform support that enterprises require to be more productive and competitive across workforces of hundreds of thousands of employees." ®