This article is more than 1 year old
Acer cranks Chromebooks with Core i3 models
Two 1.7GHz cores should make running ThinApps rather easier
Acer has announced the first Chromebooks powered by Intel's Core i3 processors.
The new C720-3871 and C720-3404 will sell for $US349.99 and $US379.99 respectively. The extra $30 buys 4GB of RAM, rather than 2GB. Both machines feature a Core i3-4005U CPU at 1.7GHz, 32GB solid state disk, 11.6 inch, 1366 x 768 display, Intel HD Graphics 4400, Bluetooth, HDMI and a battery said to last 8.5 hours.
Chromebooks have obvious enterprise attractions: the minimal OS looks to offer a small attack surface and leans so heavily on cloud storage that chores like backup could be less onerous. Throw in the fact that VMware and Google have struck a deal to pipe apps and desktop-as-a-service into Chromebooks and the devices look to offer an interesting alternative to conventional laptops.
Acer's move adds another attraction: a decent amount of processing grunt. The Core i3 is a two-core, 22nm Haswell affair released in 2013's third quarter. In other words, not a fading glory. It's also not cheap: Intel's "tray price" - the nominal price Intel charges OEMs – is $US275.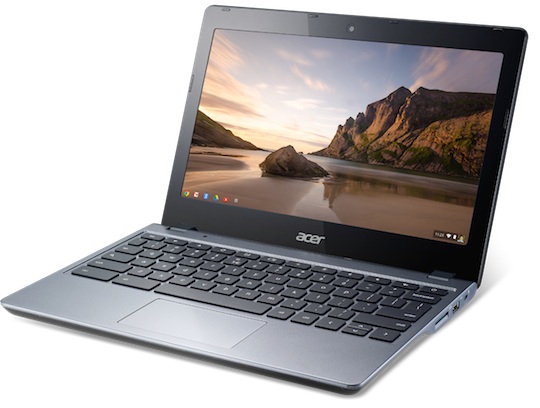 Acer's C720-3871 Core i3 Chromebook comes in any colour you want, so long as it is "Granite Gray".
What's that you say? Google is sitting on a mountain of cash, has a very obvious interest in getting more Chromebooks into more places and might be doing something to keep the cost of Core i3 kit low? We'd never have guessed. ®