Plucky Rockall adventurer prepares to leave islet
An early exit, but still likely to break occupation records
---
Brit adventurer Nick Hancock is preparing to leave the North Atlantic islet of Rockall, short of his planned 60-day stay but probably after he breaks the two existing occupation records.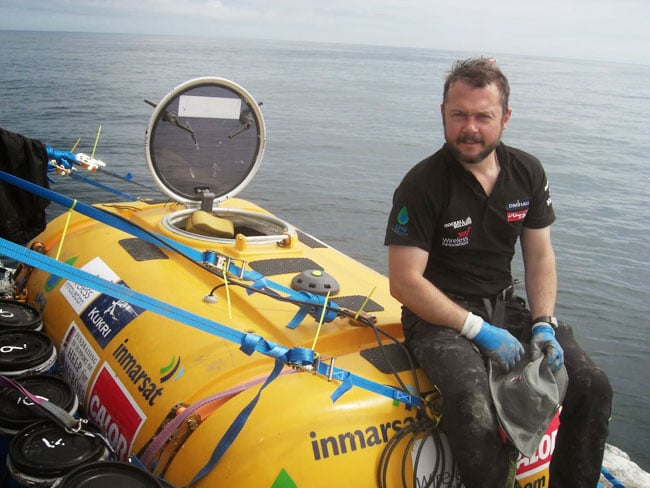 Not long now: Nick Hancock and his survival podule atop Rockall
Hancock will be retrieved from the world's most isolated outcrop by Kilda Cruises next week, but exactly when depends on the weather. He wrote yesterday:
The solo record of forty days is on Monday, so I will have beaten it on Tuesday. Similarly the group and longest record is on Wednesday, so I will have beaten it on Thursday. At the moment, the forecast for Wednesday is not great, so I'm speculating that I will be coming off on Thursday or Friday, having completed the main goals of the expedition: beating the two occupation records (although not by very much) and raising money for Help for Heroes (almost £7,000 as I write this), which is great.
The records in question were set by ex-SAS chap Tom McClean (40 days, 1985) and three Greenpeace activists (42 days, 1997).
Hancock said of his original goal: "My sixty day target was always an arbitrary figure I had just [decided] on, with no real significance, as it was a nice round figure and represented two months here. It would have been nice to push the records out that far, but I'm not too disappointed that I won't be here for another couple of weeks."
The reason for the premature departure is a storm which lashed the granite outcrop to which his podule was tied and made off with much of his food supplies. Hancock described the battering as "the worst experience of my life" and admitted he'd "never been so scared".
Neptune also deprived the pod-dweller of his climbing hardware, so just how he'll get his stuff off Rockall remains to be seen. He explained:
The remaining barrels of kit won't be an issue to lower down to the boat, but I had planned to use a Petzl ID to lower the RockPod off the cliff, the way it came up. Now that I don't have that piece of equipment, I need to find an alternative. The back-stop option is just to push the pod off the rock and hope for the best; although I think the pod will survive the fall, the shock of hitting the water may crack the hatches, and if the pod were then to roll, it would fill with water and be lost. I'd prefer to take it home, one so that its not a danger to shipping and two as it's the most iconic item associated with the expedition.
Well, he's still got a few days to contemplate that in his rocky eyrie, from where he recently grabbed this nice snap of British Antarctic Survey research vessel James Clark Ross: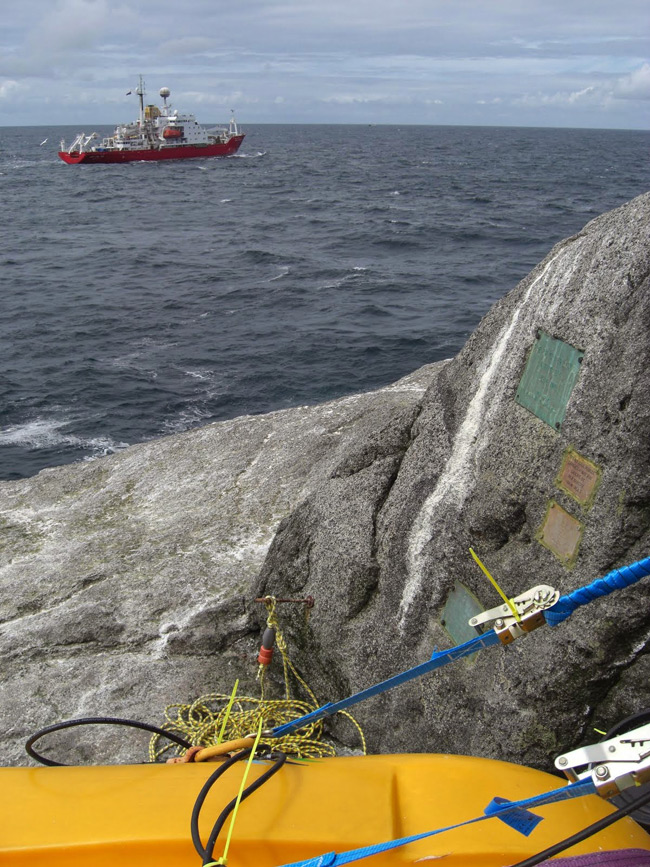 The James Clark Ross passing Rockall. Pic: Nick Hancock
®