This article is more than 1 year old
El Reg nips down IKEA's 'I've Got A Screw Loose Street'
Spanish flatpack store does indeed lie on splendidly named thoroughfare
Pics We're delighted to report that the Valladolid tentacle of flatpack world superpower IKEA does indeed lie on "I've Got A Screw Loose Street", and we've got the photos to prove it.
Back in 2011, as construction of the 34,700m2 particle board megarepository was under way on virgin ground in Arroyo de la Encomienda, on the outskirts of the Spanish city, IKEA asked its Facebook fans to vote on a name for the new road feeding the cathedral of cut-price Scandie design.
Punters came down firmly in favour of "Calle Me Falta Un Tornillo" - literally "I'm missing a screw", but with the same meaning as the English "I've got a screw loose".
The mayor of Arroyo de la Encomienda, José Manuel Méndez, announced the town hall would approve the name forthwith. No surprise there, since the site would eventually host a full-fat shopping centre employing 2,000 people, although I personally doubted this uncharacteristic show of a municipal sense of humour would ever actually materialise in street sign form.
I was wrong, because when myself and my glamorous assistant and apprentice boffin Katarina rolled up at IKEA earlier this week...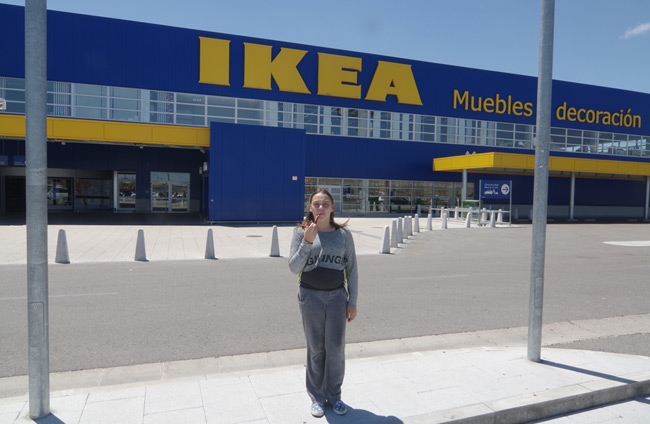 ...the helpful information desk staff informed us that the street was indeed called "Me Falta Un Tornillo", but that we'd have to search for proof because "people steal a lot of the signs".
That would explain the naked street sign posts (not) marking the main approach to the shopping centre site. Mercifully, after about ten minutes scouting about, Katarina spotted an example which had so far escaped the attention of souvenir hunters: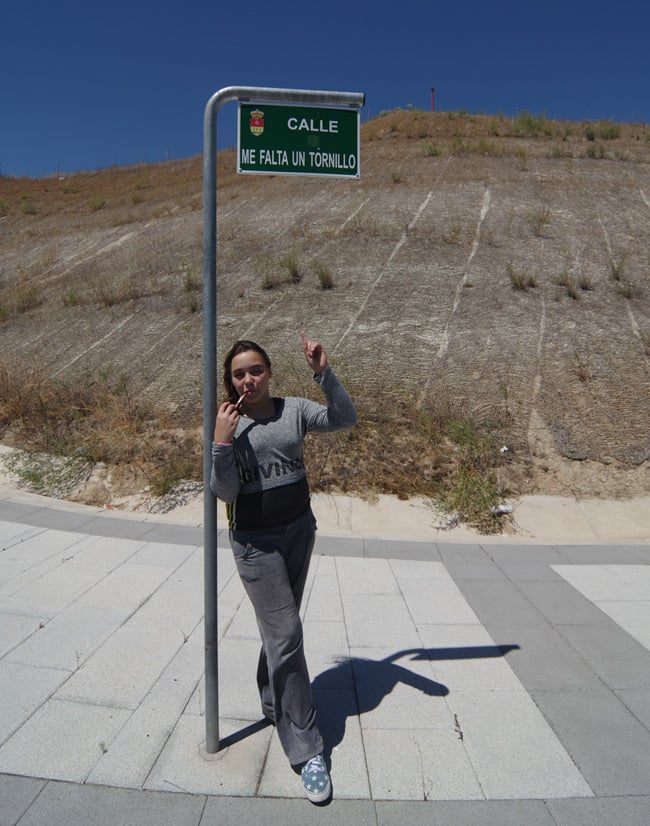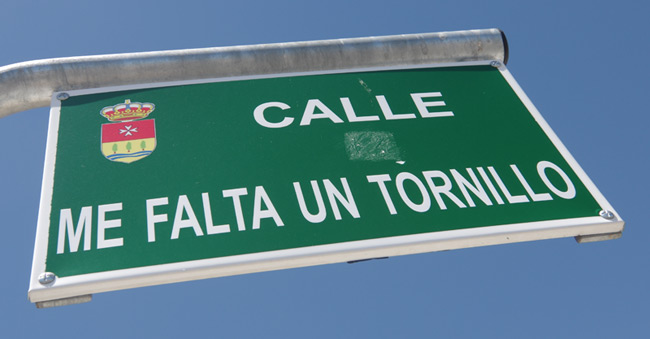 So there you have it. Since Katarina and I had gone to the trouble of travelling to "I've Got A Screw Loose Street", we did have a quick jog around IKEA, pausing momentarily to admire a particularly handsome modular built-in wardrobe concept, although I emerged with my wallet intact.
That may not have been the case had IKEA and the town hall taken the golden opportunity to flog loose screw street sign replicas - surely a winner. ®