This article is more than 1 year old
Military-grade bruiser: Getac F110 rugged tablet... is no iPad
Intel Core i5, 11.6 inches, tough as old boots Windows slab
Review Getac's F110 is just another Windows tablet in the same way that AM General's Humvee is just another off-roader.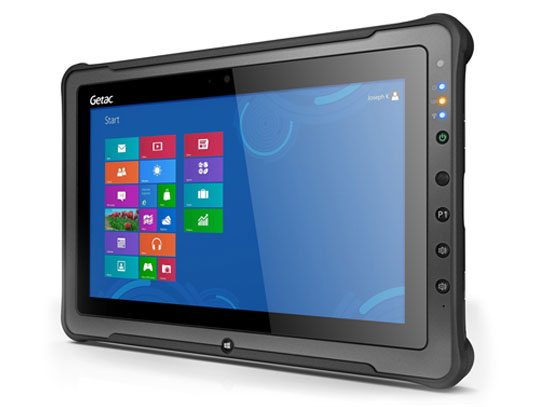 When the going gets tough: Getac's F110 rugged Windows tablet
You see, it isn't – strictly speaking – a consumer product. It's more the sort of kit you'd expect to find bolted to the dash of a police cruiser in Philadelphia, mounted in an Israeli armoured personnel carrier or being used by an oil exploration team in the middle of some God-forsaken desert or ice-blasted tundra.
That's all thanks to USA Department of Defense MIL-STD-810G and 461F certified ruggedness, IP65 resistance to dust, grit and water and -21°C to +60°C temperature tolerance. To paraphrase the Nostromo's science officer, that's an interesting combination of certificates, making it a tough little S.O.B.
What have here then is competition for the sort of Panasonic tough-tablet that The Reg booted down a flight a stairs last year.
Like all kit aimed at folk in uniform, the F110 is heavily configurable. The one I've been handed packs a 1.9GHz dual-core Intel Core i5 4300U chip from the mobile Haswell family, 4GB of RAM, Intel's integrated GPU and a 128GB SSD (which means you have about 60GB free for storage).

Rugged = chunky
If the pockets of your company/agency/government are deeper you can have an i7 chip and double the storage and double the memory. Mine also came fitted with the optional SiRFstarIV GPS and Gobi 4G LTE modem. The standard fit OS is Windows 8.1 Professional 64-bit but you can have Windows 7 instead if Win8 offends you. To buy an F110 configured as per my review machine will punch a big hole in £2,000.
Physically, the F110 certainly looks and feels the business thanks to the heavy duty black/grey plastic and rubber casing. The 11.6-inch TFT screen is large enough but the 1366 x 768 resolution is nothing to get excited about, especially when you consider that the 10.1-inch Panasonic ToughPad FZ-G1 has a 1920 x 1200 display.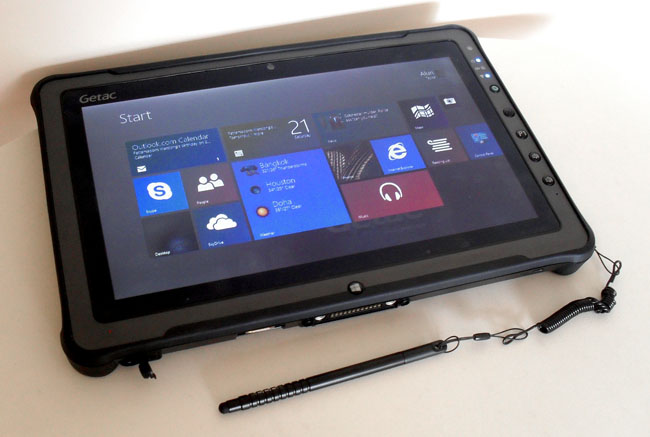 A soft-ended stylus is included rather than a digitiser pen
The screen is bright though, I've no reason to doubt Getac's claim of 800 nits and – thanks to something called QuadraClear sunlight readable technology and a semi-matte finish – it's usable even in direct sunlight. Tilt the screen back more than 50-odd degrees from the vertical though and there is a lot of chromatic shift.
The Getac F110 has a five-point capacitive multitouch screen and the tablet also comes with a chunky plastic capacitive stylus, which slots into a moulded bay in the back panel. My review unit didn't have the the optional digitiser behind the screen which would be a box worth ticking for people who need to draw or doodle on the device.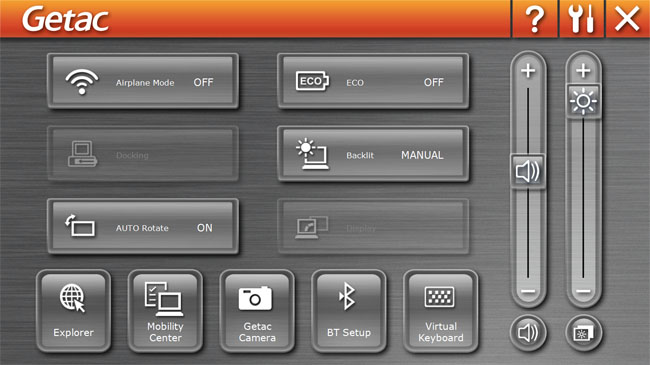 Touchscreen control panel makes navigation easier
For a rugged slab the F110 is reasonably light and compact. Granted at 314 x 207 x 24.5mm and weighing a whisker under 1.4kg, it's the equivalent of more than two Microsoft Surface's stacked on top of each other. That said, the Surface wasn't designed to be used in a war zone or in the middle of the Takla Makan Desert.