Form and function
As well as the usual Windows key, the Getac also has a row of five round buttons to the right of the display. From top to bottom these switch the thing on and off, trigger the camera/barcode reader or put the tablet into blackout mode and control the volume. The fifth button – enigmatically labeled P1 – is a multi-function key which frankly isn't all that multi-functional. Basically it changes the volume controls to brightness and the camera button to touch-screen disable and works as a keyboard modifier.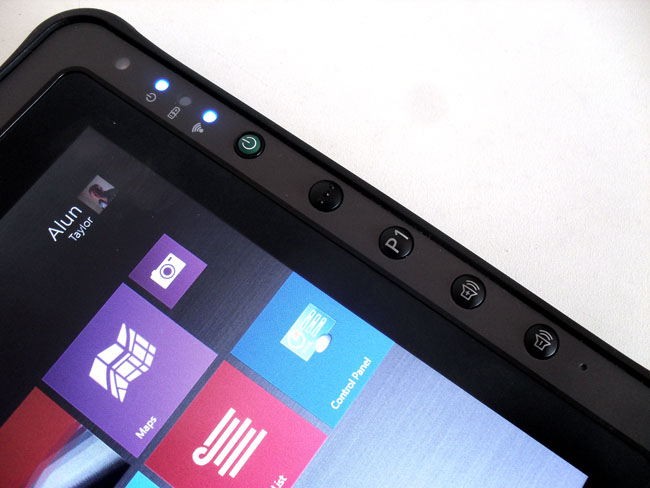 Dedicated buttons and a custom option too
Take a gander around the edge of the F110 and you'll find a single USB 3.0 port, 3.5mm audio jack socket and an HDMI connector all behind a locking access hatch, which proved disconcertingly easy to open by accident if you forget to slide the lock back into place after use.
There's also space for an expansion port which can be fitted with a number of options: barcode reader, serial port, Gigabit Ethernet connector, micro SD card reader or USB 2.0 socket. Pick any one. Personally I think an SD card reader should come as standard.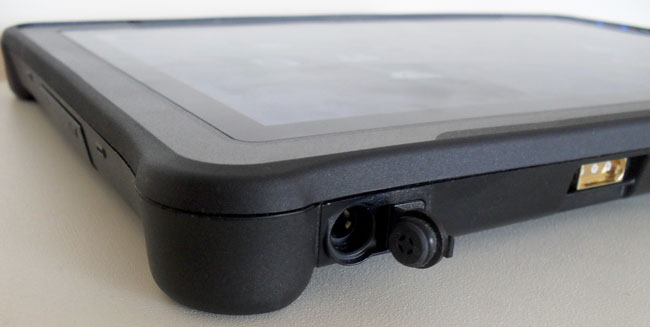 A water tight hatch keeps the power socket free from moisture and grit
The power jack is hidden behind a submarine hatch at the bottom, which is easy to open and close. Alongside it are an antenna pass-through for external GPS, WWAN or WLAN aerials and a connector to hook the F110 up to Getac's office and vehicle docks. On-board wireless connectivity is taken care of by dual-band 802.11ac Wi-Fi and Bluetooth 4.0.
While most tablets are passively cooled these days the F110 has a fan to keep things at a reasonable temperature in hot environments. As fans go it's reasonably unobtrusive until it gets up to full chat. Admittedly, this only happened when running the PCMark8 benchmark. Indeed, it does become rather more noticeable but I doubt silent running is an foremost requirement for this sort of kit.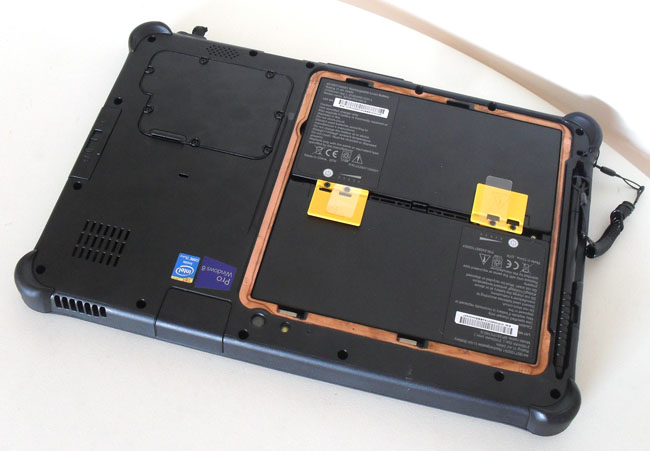 Two batteries and a SSD cover you can't remove
One unique feature of the F110 is the dual-battery bay. Unclip the cover and you can hot-swap either of the 2160mAh batteries while the machine is still running. While the battery cover was a piece to cake to unclip and remove, the same can't be said of what I take to be the cover for the hard drive.
It is held in place by seven small and puny Phillips screws which absolutely refused to turn. Half an hour with my precision tool kit resulted in nothing more than a risk of permanently ruining some screw heads.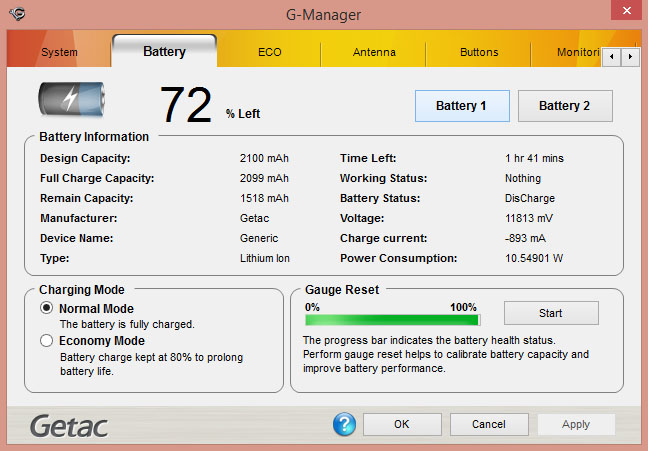 G-Manager has numerous tabbed options here showing the power set-up
Looping the PCMark8 benchtest drained the two batteries in just over 3 hours with the screen brightness cranked up to maximum but you can expect at least twice that in normal, continuous use, even if running demanding applications. During my time with the F110 I never needed to charge it more than once every 36 hours.