Splash screen
Incidentally, the system drains and charges the two batteries simultaneously rather than in series. As for the PCMark8 benchmark score, that came back at 2,200, which is exactly what you'd expect from this chipset.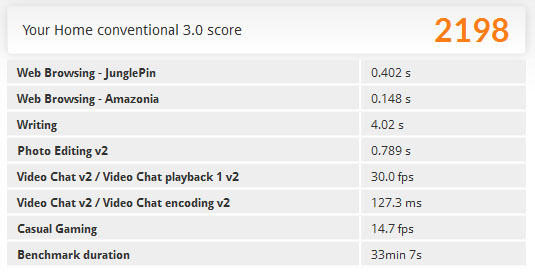 PCMark 8 benchtest result is par for the course
The cameras, 5Mp at the back and VGA on the front, are no more than adequate: if taking a snap to record the status of a build or storm damage or the scene of an accident are all you are after, they do the job.
Getac's ugly and not entirely intuitive camera application is no great shakes. In particular, swapping between the two cameras is an unnecessarily prolonged faff and should be something you can configure the P1 button to toggle. The single loudspeaker is another rather lacklustre component, doubtless hampered by the necessities of the rugged casing. The sound it makes is satisfactory but there is a lack of volume.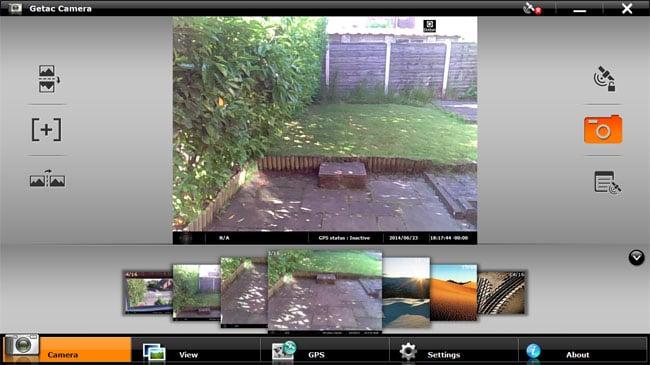 Getac's camera app is somewhat underwhelming
So, how robust is the F110? Well, within the bounds of reasonable testing, very. I knocked it off a kitchen table onto a tiled floor and no damage was done, ditto when I kicked it down a flight of stairs, threw it out of my upstairs bedroom window onto the lawn and hosed it down with a Kärcher pressure washer.
What would happen if it was hit by an RPG, dropped in a lake or chewed on by a particularly bad-tempered camel I can't say but if I'd done what I did to the F110 to an Apple iPad or Samsung Galaxy Pro, they would have ended up dark and in bits. One last thing worth mentioning is that the F110 comes with a three year Return to Base warranty which could prove handy if it takes a battering in a particularly demanding theatre of operations.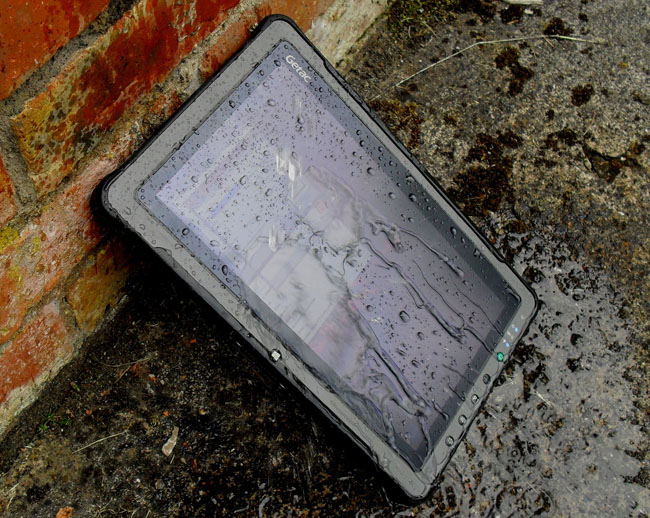 Getac's F110 gets a good dowsing – but there's a price to be paid for such a level of resilience
The Reg Verdict
Tough tablets are tough things to review because they are not, first and foremost, consumer items. Compared to the likes of an iPad or a Surface, the F110 is a bit of a non-starter – given its lowly screen resolution, mediocre cameras and lacklustre speaker. It's also as thick has a hardback book and not much lighter.
Of course that comparison is a bit specious because the F110 will survive in conditions that will reduce the Apple and Microsoft tablets to kit form in short order, while the very adaptability of the F110 means the sort of folks who will buy it – people with titles like General, Commissioner or Governor – can tailor it to their staff's exact requirements. That said, I'd still have liked to have seen a SD card slot included in the basic specification, especially for the 128GB model. ®

Military-grade bruiser: Getac F110 rugged tablet... is no iPad
Rugged, water- and grit-resistant 11.6-inch tablet with numerous optional extras and featuring a 1.9GHz Intel Core i5-4300U CPU, 4GB of RAM and a 128GB SSD.
Price:
£1725 (base model), £1925 (tested) RRP