Airbus has promised that its next plane, the A330 Neo, will bring 3D movies into the sky.
Announced today, the A330 Neo is an upgrade for the twin-aisle, 250-300 seat A330. Airbus says the new model will come in two sizes and add about ten seats to current configurations, while reducing fuel consumption by 14 per cent per seat. Thank the Rolls-Royce Trent 7000 for that reduction, along with new aerodynamics and technologies borrowed from 777 competitor the A350neo.
The plane-maker is also promising "full connectivity" and an in-flight entertainment system that can show 3D films thanks to a "fourth generation" in-flight entertainment system. If those promises follow those made about the A350neo's in-flight entertainment system, that means HD video, WiFi and mobile telephony should all be available in the air.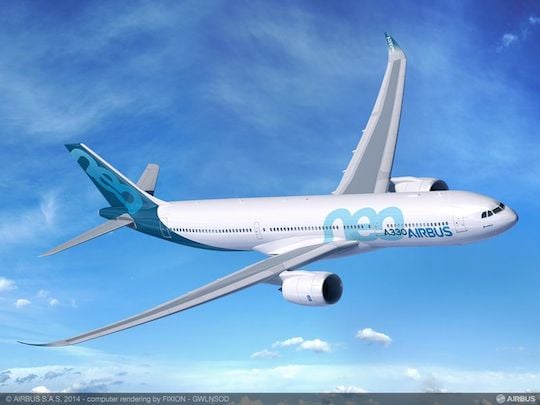 The Airbus A330neo
The A330neo is expected to reach airlines in 2017, an impressively brief period of time between announcement and entering service given it took Boeing a decade to get the 787 up and flying. The 787 did, however, require a lot of primary innovation while the A330neo looks to be using technologies Airbus has already pressed into service.
There's no word on whether the screens Airbus imagines in the A330neo will require 3D glasses, or just how much airlines will gouge passengers to buy them. ®